10 top breast cancer research projects!
February 27, 2019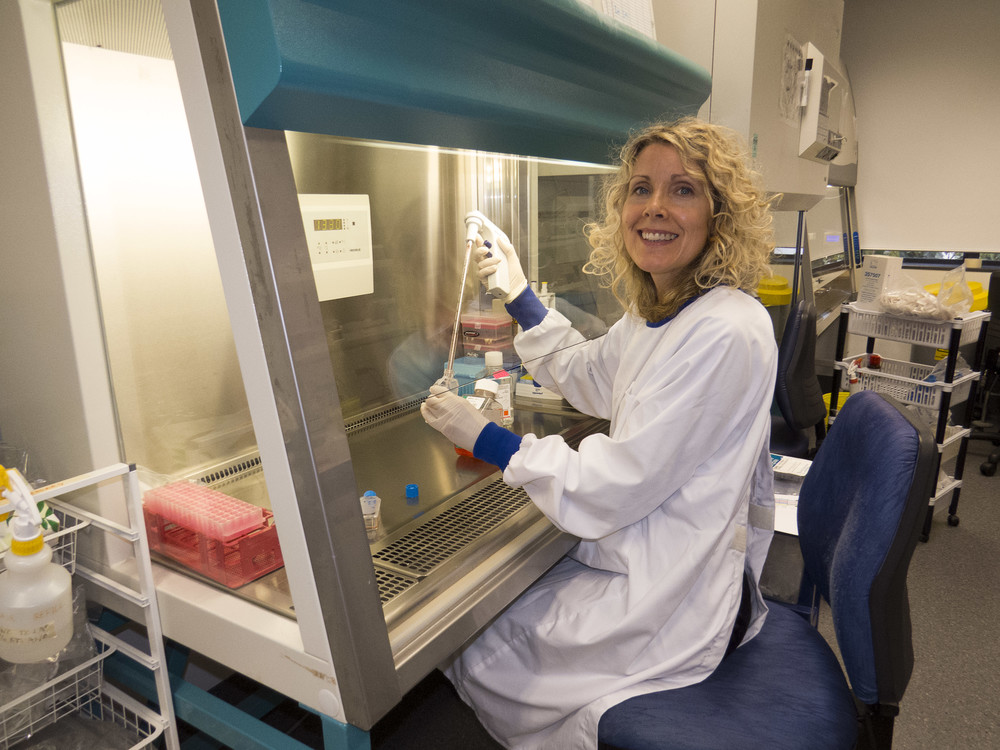 Here at BCFNZ, we fund lots of great research into breast cancer, from vaccines to immunotherapy - we are covering all the bases!
To find out more about the fantastic scientists and innovative projects we are getting behind read below:
1) Cutting off the oxygen to breast cancer
What's the problem?
Triple-negative breast cancer (TNBC) has the worst survival and there are no targeted drugs available to treat it.
What are we doing?
Some TNBC tumours produce glutamate, which activates HIF-1, a protein that tumours use to develop new blood vessels so they can find more oxygen, which in turn makes cancer more aggressive and more resistant to treatment. Dr Dean Singleton at Auckland University has already shown that drugs that block glutamate production can deactivate HIF-1. Now, he'll use a $237,000 grant to look deeper into how HIF-1 interacts with glutamate-targeted drugs and how we might use that knowledge to improve treatment of TNBC. This grant is under BCFNZ's partnership with the Health Research Council and BCC.
2) Protecting cells from the breakdown that lets cancer spread
What's the problem?
Breast cancers produce heparanase, an enzyme that can eat away at the extracellular matrix surrounding tumour cells. When that happens, cancer escapes into the bloodstream and spreads throughout the body. Anti-heparanase drugs could prevent breast cancers from spreading, but the existing drugs would kill patients if taken in the quantities required to stop cancer in its tracks.
What are we doing?
Last year, we gave Dr Olga Zubkova at Ferrier Institute $100,000 to develop new, low-cost, non-toxic anti-heparanase drug compounds. Now, we've awarded Victoria University's Professor John Miller $100,000 to work with Olga on continued testing of the new compounds, focusing on metastatic triple negative breast cancer in tissue cultures and animal models. If successful, this could ultimately lead to clinical trials in patients. This grant is in partnership with the Health Research Council and BCC.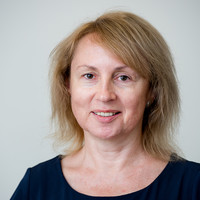 ABOVE: Dr Olga Zubkova from the Ferrier Institute
3) Tackling the side-effects of chemotherapy
What's the problem?
Delayed nausea and vomiting are awful side-effects of breast cancer chemotherapy. Nausea is rated as the most distressing side effect and vomiting the third most distressing by patients receiving chemotherapy. Between half and 80 percent of patients suffer these side-effects.
What are we doing?
We've committed $250,000 to a new clinical trial that will test the ability of a cheap, widely available drug to prevent them. The PantoCIN trial, led by medical oncologists Richard Isaacs and Navin Wewala from Palmerston North Hospital, will recruit 164 patients at up to nine hospitals around New Zealand.
4) A vaccine for HER2+ advanced breast cancer
What's the problem?
HER2+ breast cancer is more likely to spread throughout the body than some other breast cancers. Researchers around the world have been trying to develop vaccines to prevent this spread, but so far, they're not really working.
What are we doing?
Dr Robert Weinkove at Malaghan Institute of Medical Research in Wellington has teamed up with BCFNZ Ferrier Breast Cancer Research Programme at Victoria University to develop new, more effective anti-HER2 vaccines. They will use a $250,000 grant from BCFNZ's partnership with the Health Research Council and Breast Cancer Cure (BCC) to test their new vaccines on metastatic breast cancer cell lines, to see if they can stop cancer spreading. If that is successful, they will test whether the vaccines produce an immune response in cells from people with and without breast cancer.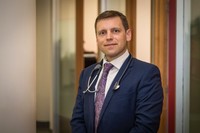 ABOVE: Dr Robert Weinkove at Malaghan Institute of Medical Research in Wellington
5) Improving equity in breast cancer care
What's the problem?
Māori and Pacific women, and women living in some deprived or remote areas, face disparities in breast cancer treatment and survival. To get rid of these disparities, we need to know exactly where the problems are.
What are we doing?
BCFNZ and the Health Research Council have awarded $200,000 to Dr Sandar Tin Tin at Auckland University. She will map the problem areas using data from the Breast Cancer Foundation National Register and Statistics New Zealand's Integrated Data Infrastructure. The study will look at how breast cancer is diagnosed and treated in different regions, and patients' survival. The maps Dr Tin Tin creates will be freely accessible by the public and will identify areas of need so that NZ can improve equity in breast cancer care.
6) A Vaccine for triple negative breast cancer
What's the problem?
Triple-negative breast cancer (TNBC) is the hardest to treat, with no targeted treatments, and often affects younger women. Last year, with your help, we funded Professor Sarah Young at Otago University to develop a virus-based vaccine for TNBC. Having successfully developed a virus that works in breast cancer cell lines, she now needs to figure out how it might work for patients work in combination with existing treatments.
What are we doing?
We've awarded Professor Young another grant of $107,000 to test her vaccine in mice, in combination with new and existing treatments. If her team can find a combination that works to prevent TNBC from spreading, they'll have taken a vital step towards human clinical trials.
7) Digital pathology for more accurate breast cancer diagnosis
What's the problem?
If you have a biopsy for suspected breast cancer, a pathologist views your tumour sample through a microscope, to see what type of tumour you have, how aggressive it is, and other important features. The process is time-consuming, sometimes subjective and can result in errors. Pathologists agree that new, digital "whole slide imaging" systems will make interpreting biopsies much faster and more reliable. The challenge is to develop the right algorithms to make these expert systems as accurate as possible.
What are we doing?
Last year, Associate Professor Ramakrishnan Mukundan and his team from the School of Computer Science at Canterbury University came 2nd out of 104 entries in a global competition to develop machine-learning algorithms for the pathology of HER2+ breast cancer. We've awarded him $100,000 to refine and improve his algorithm and then to develop an automated image analysis system that will improve the accuracy and efficiency of pathology in NZ.
8) Using fat stem cells to improve breast reconstruction
What's the problem?
Fat grafting is an appealing option for breast reconstruction because it uses natural tissue with low surgical risk. Unfortunately, up to 70% of the fat injected into the chest disappears after surgery; patients need multiple surgeries to achieve a successful reconstruction. Doctors don't know why there is such a high loss of injected fat.
What are we doing?
Dr Ineke Meredith, a surgeon at Wellington Hospital, will use a $60,000 BCFNZ grant to kick-start a study of how fat-derived stem cells can affect breast reconstructions. The study will use MRI to assess affect graft uptake and retention in a small group of patients, and will also look at the inflammatory response in stem cells and their ability to grow new blood vessels. Dr Meredith hopes that as a result of this study, we'll understand how manipulating the cellular biology of fat stem cells can improve fat retention in breast reconstructions. Improved fat retention
9) Which DCIS will become invasive breast cancer?
What's the problem?
Ductal carcinoma in situ (DCIS) is a pre-cancerous condition that, if untreated, can turn into invasive breast cancer. Doctors don't know which DCIS will become full-blown cancer, so at the moment, almost all DCIS is treated with surgery and radiation.
What are we doing?
Dr Annette Lasham at Auckland University will use a $117,000 grant from BCFNZ and the Health Research Council to analyse DCIS records in the Breast Cancer Foundation National Register to establish the common factors in DCIS patients who develop invasive breast cancer. She will then develop a statistical model that will predict who will develop cancer and who won't. We hope this model will in the future change the way we treat DCIS for low-risk patients.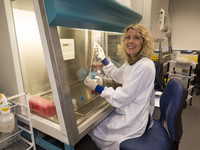 ABOVE: Dr Annette Lasham
10) When cancer treatment stops working…
What's the problem?
The new immunotherapy drugs that are working wonders with melanoma patients so far haven't really worked in breast cancer. Sadly, patients whose breast cancer has spread end up running out of drug options far too soon. Researchers now believe that in breast cancer, immunotherapy will be more effective when combined with existing hormone therapies – but they don't know which combinations will work for which patients.
What are we doing?
We've awarded $98,000 to Anita Dunbier at Otago University to identify genetic changes that indicate whether or not a patient will benefit from combined immunotherapy and hormone therapy. Her ultimate aim is to develop a low-cost test to help determine the best course of treatment for individual patients.
---