International advanced breast cancer expert to address NZ patients
January 21, 2019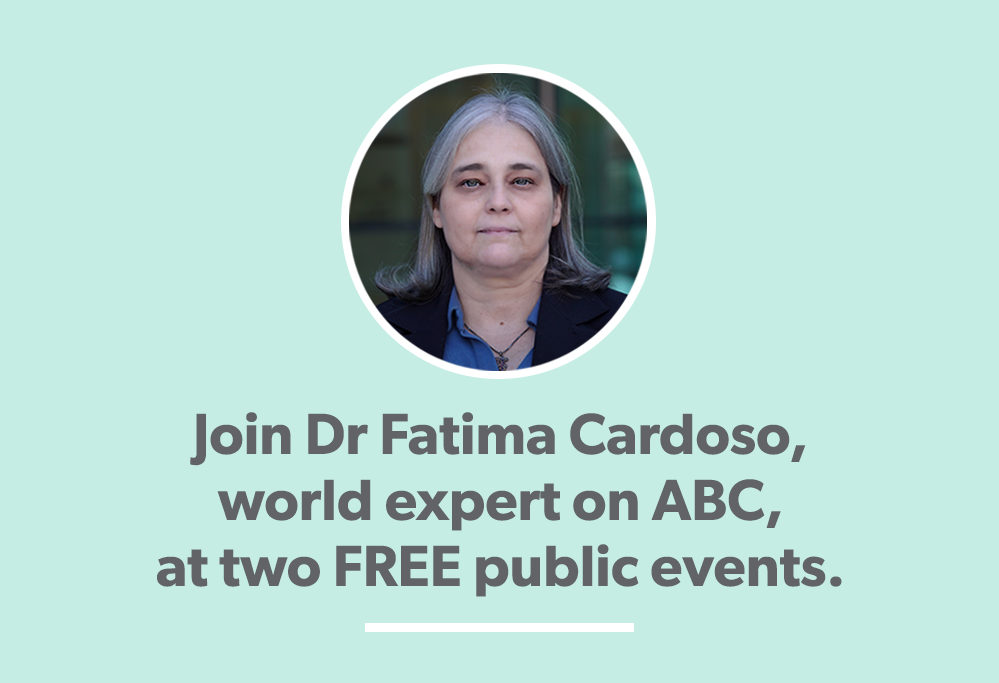 Breast Cancer Foundation NZ is bringing noted oncologist Dr Fatima Cardoso to NZ next week to address Kiwis living with incurable advanced breast cancer (ABC) and their doctors.
Widely regarded as a world authority on ABC, Dr Cardoso led the establishment of international ABC treatment guidelines and the ABC Global Alliance, which has the goal of doubling the length of ABC survival by 2025.
Dr Cardoso, who is from Portugal, will speak at a two-hour seminar for ABC patients, From Passenger to Co-Driver: taking a front seat in your ABC care, in Auckland next Tuesday January 29. On Wednesday January 30, she will give a public lecture in Wellington, open to anyone, titled Better for Everyone? Applying guidelines and standards in person-centred care for advanced cancer. On Friday, she will speak at the Cancer Care at a Crossroads conference for healthcare professionals; she will also meet with breast cancer specialists.
Dr Cardoso's visit comes in the wake of I'm Still Here, Breast Cancer Foundation's report into ABC treatment, survival and patient experience in NZ, released late 2018. The report showed median survival after a diagnosis of ABC is only 16 months, compared with two to three years elsewhere, and that Kiwis seem to receive less treatment than people in some other countries.
"We need urgent action to improve survival of people with ABC, and a big part of that is changing attitudes throughout the system," said Evangelia Henderson, chief executive of Breast Cancer Foundation NZ. "Dr Cardoso will help raise expectations at all levels, from patients to medical specialists, and her expertise will be invaluable as we seek to improve ABC care and survival."
Visit www.breastcancerfoundation.org.nz/support/patient-information-events/seminars to register for the Auckland or Wellington events.
Bio of Dr Fatima Cardoso: Dr Cardoso ischair of the Advanced Breast Cancer International Consensus Guidelines Conference and of the ABC Global Alliance. She is on the European Society of Medical Oncologists (ESMO) Board of Directors and is chair of the ESMO National Representatives Committee, member of the ESMO Public Policy Steering Committee and ESMO Guidelines Steering Committee, and member of the American Society of Clinical Oncologists (ASCO) Breast Cancer Guideline Advisory Group. She is also the Breast Cancer Program Coordinator of the European School of Oncology, editor-in-chief of The Breast Journal, associate editor of the European Journal of Cancer, and Director of the Breast Unit of the Champalimaud Clinical Center in Lisbon, Portugal.
For more information:
Adèle Gautier, Research & Communications Manager
Breast Cancer Foundation NZ
09 304 0961 / 021 423 353 / adeleg@bcf.org.nz
---