Laser treatment study a first for NZ
March 6, 2015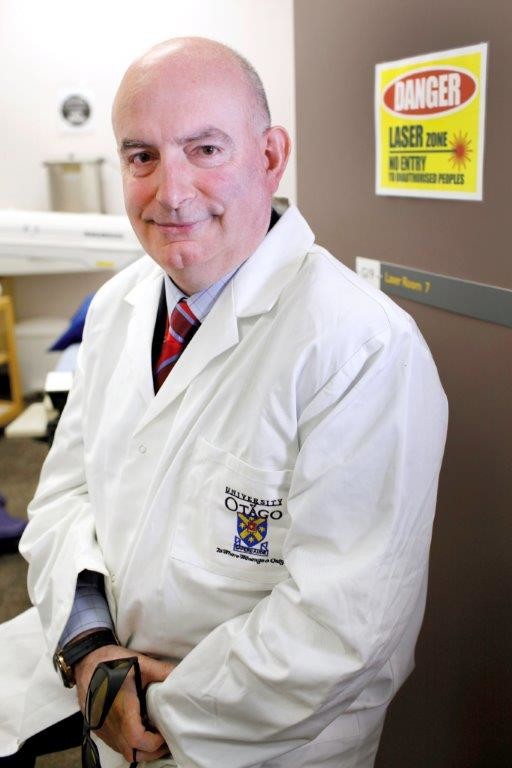 International Lymphoedema Awareness Day - March 6, 2015
Otago University's School of Physiotherapy will run the first clinical evaluation of laser treatment for lymphoedema in New Zealand,
on behalf of the NZ Breast Cancer Foundation.
The $52,000 study will enable Professor David Baxter and his team to evaluate the potential effectiveness of low level laser therapy (LLLT) for breast cancer-related lymphoedema, its acceptability to patients and therapists, and the feasibility of incorporating the treatment into existing clinical practice within New Zealand's hospitals. The study will start in April.
Lymphoedema causes swelling and hardening of the arm in up to a quarter of breast cancer patients who have multiple lymph nodes removed as part of their breast cancer treatment. Lymphoedema of the arm can also be caused by taxanes, a type of cancer drug, and breast lymphoedema
is increasing as more women have breast-conserving surgery (lumpectomy). The discomfort and swelling caused by lymphoedema can be severe, and treatment options are limited.
"In Australia and the USA, laser is seen as a low-cost, safe and effective treatment for breast cancer-related lymphoedema to reduce limb volume and improve function," said Professor Baxter. "But most studies have been small-scale, and LLLT isn't established in New Zealand at all. This study is a chance to see how well it works for our patients in our treatment environment."
Van Henderson, NZ Breast Cancer Foundation chief executive, agreed, saying, "We're excited by the potential of laser to re
lieve a condition that makes daily life difficult for many women. But we know that regardless of how effective laser therapy is, if clinicians and patients won't accept it, or if it's impractical within our clinical environment, it won't have a future here. Professor Baxter is internationally recognized for his expertise in laser medicine, making him the ideal leader for this study."
Study participants will have up to 12 sessions of laser treatment, in addition to standard massage, compression and bandaging, i
This is the second lymphoedema-focused initiative by the NZBCF recently. Last year, it purchased five bioimpedance machines, used to monitor the development and treatment of lymphoedema, for DHB clinics at Gisborne, Timaru, Hawke's Bay, Dunedin and Whangarei.n a selected DHB lymphoedema clinic. The main measure of effectiveness will be a reduction in limb volume, with decreased tissue hardness and patient satisfaction as secondary outcomes. If the results are positive, this evaluation could potentially lead to the first large-scale randomised controlled trial of LLLT.
About LLLT: Low level laser therapy (LLLT) is a non-invasive form of phototherapy, based on the principles of photobiomodulation (i.e. light interacting with tissue to modulate biological processes, typically tissue repair). The therapy is widely available internationally, and is generally used in physical medicine and rehabilitation, physiotherapy, and related fields for the promotion of tissue repair after injury, or for pain relief in chronic conditions (e.g. tendinopathies, neck pain, rheumatoid arthritis). The devices used in treatment are considered safe, and are relatively simple to use; however there are relatively few of these devices in routine use in New Zealand.
---