New #Lumpday promotion urges once-weekly awareness
June 28, 2017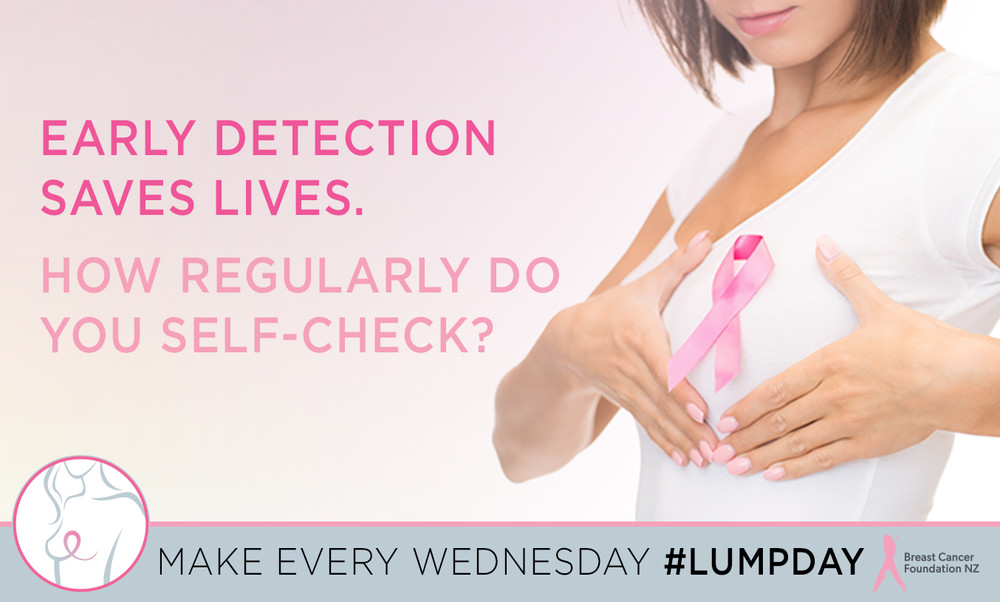 Kiwis are being encouraged to 'Make Every Wednesday #Lumpday' in a new initiative from Breast Cancer Foundation NZ (BCFNZ).
The social media campaign features the message 'Early detection saves lives' and asks 'How regularly do you self-check?'
The idea is to link breast awareness with Wednesday, or 'hump day' as it is often known, in order to turn self-checking into a weekly habit.
BCFNZ ambassador Jacqueline Nairn (ex-Nurse Wendy from Shortland Street, and now director) says, "Being proactive about our own breast health is our single greatest defence against this disease. In between mammograms, we need to be vigilant about regularly self-checking. If we can make it a habit, even better - because breast cancer can happen at any time.
"Early detection is vitally important and could save your life. Give yourself the best chance of finding it early and know your normal. Give yourself a fighting chance. Why wouldn't you?"
To find out how to self-check, watch the Breast Cancer Foundation's TLC video - hosted by Jacqueline - at anychanges.co.nz
Increasing early detection is one of BCFNZ's key focus areas, along with ground-breaking research and support for people with breast cancer. BCFNZ recommends that all women be breast aware from the age of 20. This means knowing how your breasts normally look and feel, and checking for any unusual changes. If you are 45 or over, enrol in Breast Screen Aotearoa's free national screening programme.
Checking your breasts is as easy as TLC.
-Touch both breasts. You're feeling for any lumps or thickening of the tissue, right up to the armpits.
-Look in a mirror. Can you see any physical changes to the breast shape, skin or nipples?
-Check any breast changes with your doctor, even if you've had a mammogram lately.
'Know your normal', so you can find any changes in your breasts as soon as they appear.
---