NZBCF hosts special event for patients at visiting breast cancer medical conference
July 20, 2016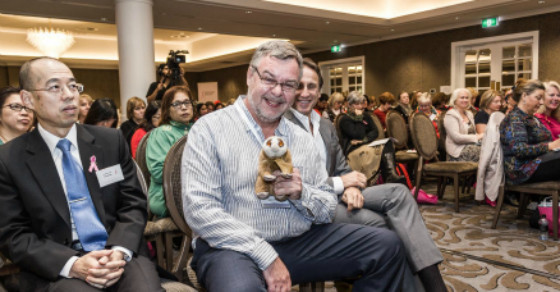 The NZ Breast Cancer Foundation hosted a special information day, designed for breast cancer patients, as part of the 2nd Australasian Congress - Advances and Controversies in Breast Cancer (ABC2) on Sunday 10 July 2016 at the Langham Hotel Auckland.
International speakers from multiple disciplines in breast cancer research and treatment, presented a programme of talks to share the highlights from the main conference, as well as information and updates from a New Zealand perspective; specifically targeted for women currently undergoing treatment for breast cancer, or those who have recently completed treatment.
kGnJKBxreyA
Over 200 guests from all over the country gathered for the seminar of speakers and were treated to a brunch kindly sponsored by the Langham Hotel. Guest MC was popular radio host Lorna Subritzky, with international speakers Dr Krishna Clough, Consultant Plastic Surgeon, Paris, France; Prof Andy Evans, Breast Radiologist, Dundee, UK; Prof Pamela Munster, Medical Oncologist, San Francisco, USA. Local experts were Dr Maria Pearse, Radiation Oncologist, Auckland; Dr Trevor Chan, Radiologist, Auckland; Dr Sheridan Wilson, Oncologist, Auckland; and Kaytee Boyd, Nutritionist, Auckland.
For a summary of the main messages, see 8 Key Messages from the Consumer/Patient Day.
Prof. Andy Evans, Breast Radiologist (UK) - How should we treat small, low-risk cancers found on a mammogram?
https://www.youtube.com/watch?v=kGnJKBxreyA
---