Pink Ribbon Trek Team '18: Great Wall of China
July 27, 2018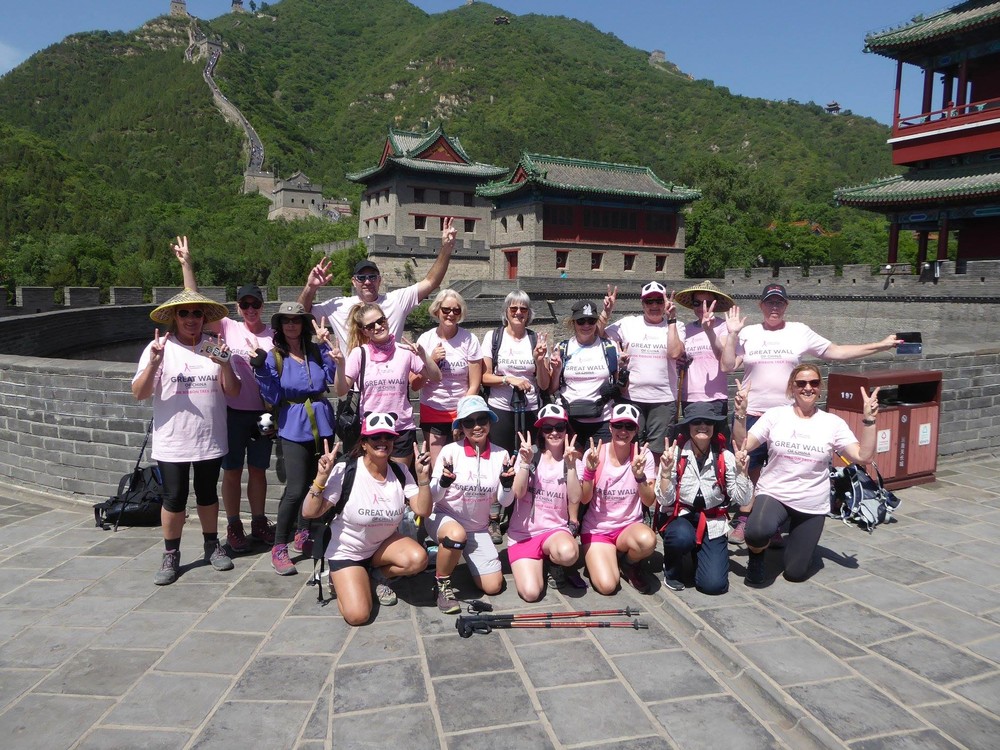 Pink Ribbon Trek Team '18: Great Wall of China
In May, 26 women and one man took on the iconic Great Wall of China, raising over $150,000 for BCFNZ. This is their story.



Day 1 & 2:
Team one:

After a long journey from New Zealand by various routes, the team gathered today for our first welcome lunch. We sat down to an amazing array of food and got to know each other. Each team member's motivation for joining this amazing journey vary but some common themes come through loud and clear: breast cancer has touched most of us at some point in time. Breast Cancer Foundation New Zealand does amazing work to support affected women and their families, so this trek is an opportunity to give something back. The afternoon was spent in the beautiful Jingshan Park in the heart of old Beijing. A quick climb to the high point was a warm up of things to come on the Great Wall. We were treated to amazing views of the Forbidden City with Tiananmen Square in the distance.
Our highlight of the day was when our local guide Jessie took us through the basics of Tai Chi-as taught to her by her father. We all quickly picked up the key concepts and were soon confident and competent enough to attract quite a crowd of locals. The pink T shirts might have contributed to our visibility! For some this is a trip well outside their comfort zone, we have the support of the rest of the team and can draw on the inspiration of survivors. If day one is any indication, the next week will continue to nurture us all.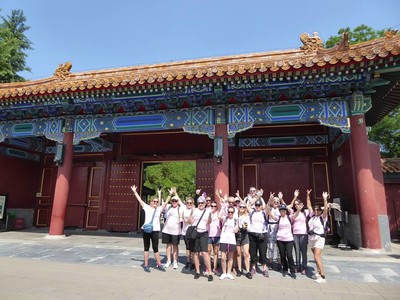 Team two:
After a long day soaring above the earth and a good night's sleep for most, the BCFNZ China trip got underway today!
Chowing down a few famous Beijing tea-eggs, we set off for an action packed day in the bustling metropolis. We relaxed (and laughed!) our way through a wonderful Tai Chi lesson in a park at the very heart of Beijing. This was followed by stories from our amazing guide of ancient and modern China as we sat in awe of the forbidden city from above at a view point.
Escaping the crowds, we crawled our way through the humble alleyways of 'old' Beijing to a local home where we learnt to make traditional dumplings, an essential life skill! A mighty feast soon followed at the local home and we laughed and cried our way through the meal as members of the group shared their inspiring and touching stories of what has brought them here to China.
The rest of the afternoon brought even more surprises as we rickshawed across the district to the home of a famous 'Cricket fighter', which is a completely bewildering and unusual experience you couldn't find anywhere else on earth. We learnt the story and history of Cricket fighting across China with enough time to spare to meet and pet the creatures themselves. Shrieks were common, and laughter even more so.
We returned for a cold beverage and a beautiful big Chinese banquet at a local restaurant. Tuckered out, yet pumped for more adventure, we will rise tomorrow for yet another great day in China!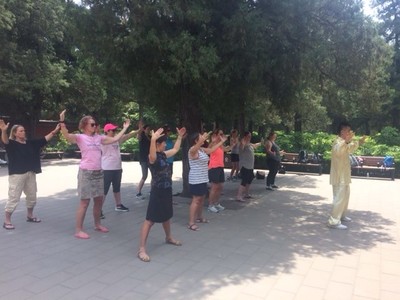 ---
Day 3:
Team one:
While we are keen to get started on our Great Wall trek, we had an amazing day seeing many amazing sights in Beijing. Visiting the Forbidden City, Tiananmen Square and the Temple of Heaven was well worth it. We were all impressed by the the majesty and vastness of Tiananmen and the Forbidden city; thousands stood patiently in the hot sun for hours to get a glimpse of Chairman Mao in his mausoleum.
After the crowds and heat is was a pleasure to retreat to the shaded exercise area of the gardens surrounding the Temple of Heaven and join the locals in stretching and undertaking some gentle exercise. All good preparation for tomorrow and the start of our trek!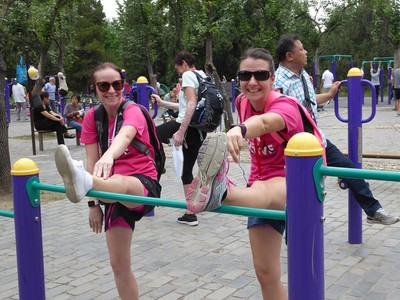 Team two:
Another wonderful day in the land of Dragons!
The wontons made it into many breakfast bowls this morning, fuelling us for a big day at some of Beijing's most famous sites. We hit up the beautiful Temple of Heaven, admiring its unbelievable architecture and feasted on the vibrant buzz that swarmed around us at any given point. The temple visit was complemented by a traditional Chinese tea ceremony, tasting several delicate and aromatic tea blends with take-homes being purchased left right and centre!
The day progressed to the world famous Tiananmen Square where we took in it's breath-taking size and layout. A local lunch mixed with hilarious miscommunications led us into the Forbidden City, a giant complex of ancient buildings with some 8000+ rooms!
Our guide was brilliant throughout the day, narrating tales of the last emperor and gathering moments from previous dynasties to bring an old world to life before our very eyes.
The day ended with a cold beer and a feast which included local fish and pig kidney's, mmm-mmmmm. The sun has set and we will all hit the pillows soon as we rise and set out for the wall tomorrow!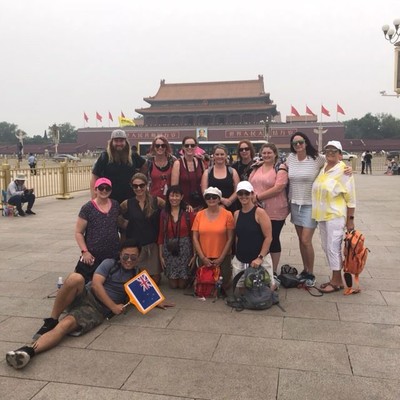 ---
Day 4:
Team one:
We are all looking forward to finally be on our way to the Great Wall! After all those months of planning, training and fundraising everything is finally coming to fruition. We had our first glimpse of the Wall, followed by a short trek to get us started. The emotion was palpable. Some of us were moved to tears, reflecting on the motivation to be here. The group agreed that it was hard to believe they were finally be standing on the Wall. Said one team member, "one word to sum it up? Surreal!"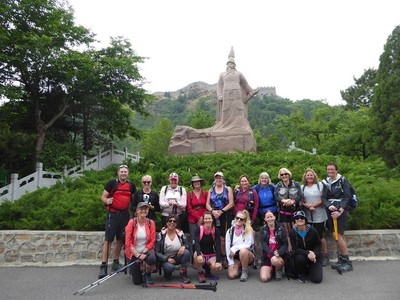 Team two:
Our first day on the greatest of all walls!
Coffees were spilt and bowls of goodness flooded into our gullets as we shot off early this morning for the hills!
Traffic jams weren't kind to us but we snaked our way out of the city to the Qing tombs. This sacred burial ground of emperors, empresses, princess and princesses show off ancient carved manuscripts on stone that line the walls of beautifully formed underground resting places. After a few laughs and some pictures with peacocks (as you do), we strutted down for lunch at a local hangout which brought plate after plate of dumplings, Chinese spiced ribs, calamari and delicious vegetables!
With food coma's soaking our bones we went for the wall! There was an emotional and exciting kick-off to starting on the stone structure as we celebrated our arrival.
It was a shock to the system initially as the legs began to recognise what the hell was actually going on. But! With one foot in front of the other, some 60 stories worth of stairs were climbed and our first scenic moments on one of the world's most recognisable features took place.
We managed to watch the sun set over the hills at the end of the day and relax to yet again, a delicious feast of more dishes than a sink could handle. We sleep tonight in a beautiful courtyard-style hotel at the foot of the wall, and prepare for our next day of trekking and adventure!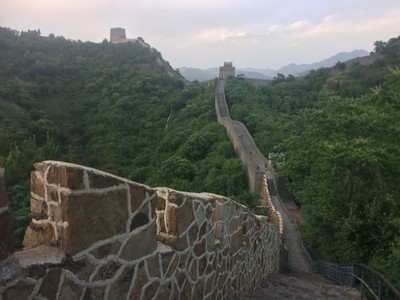 ---
Day 5:
Team one:
After a peaceful night's sleep after our first adventure on the Huangyaguan section of the Great Wall we awoke to sounds of birds and the Great Wall rising above us. After breakfast and a drive, we arrived at the Gubeikou section, where we trekked through the Panlong (Hidden Dragon) mountains. The sinuous nature of the wall as it covers the ridge line is said to look like a dragon. Although the weather was overcast and at times we encountered light rain, but not enough to dampen our spirits! Every watch tower we glimpsed through the cloud or another section of crumbling wall in the mist wowed us at every turn.
Our amazing guide, Jessie told us the history of ancient empires and powerful women including concubines. It sounds as if they often held the balance of power, so it is very apt that we are here with a group of amazing powerful women (and one token man) trekking to raise awareness for a cause that affects so many people.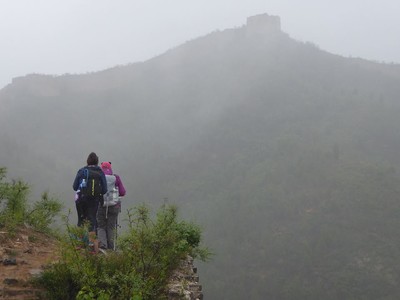 Team two:
The great great Great Wall!
After a solid nights sleep in the old military barracks-turn-hotel, we started day 2 of trekking along the wall. Unlike the Mongols 700 years ago, we were able to conquer the Gubeikou section of the wall today, in a slow but steady fashion.
A sharp rise to begin, we then plateaued out along the old section of the wall, dodging sink holes and crumbling sections which kept us continuously on our toes. After a few hours we reached the highest tower of the wall section and had a roof-top lunch. We set off in due time, avoiding the food coma's wrath and snuck along narrow sections of wall remains through several other towers to a vantage point that gave us incredible 360 degree views of the rolling Chinese horizon.
With the heat sizzling away at us and camelbaks getting a solid work out, we turned down a winding path which cut through the hills to our finish. Overall we stomped the ground for almost 5 hours and so a nice gentle stretch in the shade was welcomed.
Tonight we were hosted at a homestay which provided another buffet of delicacies but our brilliant day in China was not over yet! Our amazing guide had surprised us with a great cultural lesson in the art of Chinese calligraphy. This adventure just keeps getting better for all of us! Everyone is doing so well and they should all be proud of themselves!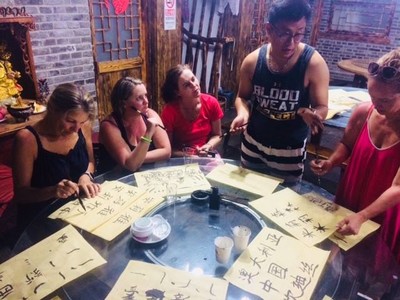 ---
Day 6:
Team one:
Travel is the perfect opportunity try new things and last night's calligraphy lesson from our guide Jessie was one that we all enjoyed; even if our attempts were less than perfect (although Mary displayed a natural talent which put the rest of us to shame)!
We woke to a fine day and were soon on our way to the East Gate of the Jinshanling section of the Great Wall. In sharp contrast to yesterday's section, today's was better preserved and restored. Jessie tells us that there is a saying in China, "Paper does not cover fire for long"; and we were certainly on fire today, with picture postcard perfect weather and scenery. Parts of today's journey were difficult with numerous steep ups and downs but every bit of effort is rewarded as wow factor of the wall just gets better.
There has been a bit of a rush to purchase pink panda caps! At one stall the group bought the entire supply, the vendor pursuing us along the wall when he located more. We certainly have brought a little more pink to this corner of the world.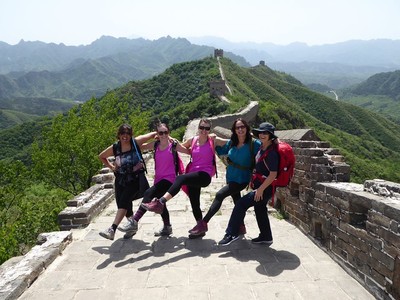 Team two:
The great crawl of China!
There were plenty of hobbles to the breakfast table this morning as we rolled into our third day of trekking on the wall. After a short transfer by shuttle, we got the blood pumping with a tender little stroll up a winding path that lead us to the base of the wall. We marched past the depressing site of cable cars, effortlessly escorting the double-denim wearers of the universe to the top, whilst we braced ourselves for spontaneous combustion.
The long hard climbs were steady today with little escape from the heat as well as the accumulation of dirt and sweat. Embracing the discomfort, we marched as a unit across some twenty odd towers, stumbling across some of the most iconic views accessible on the wall!
The hard, steep staircases smirked dryly at us but we were all able overcome its challenges and finish the day in great spirits.
Blisters started saying G'day and one participant kept up their routine of falling into a bush each day.
A transfer to the hotel enabled us a great afternoon rest before having an extremely traditional Chinese meal... Pizza Hut. From deep fried Taro balls to chocolate and fruit pizza, a real cultural treat for all!
No doubt most people will be reaching for some anti-inflammatories tonight as we rest our weary limbs prior to take off up and along the hardest day of the wall yet!
---
Day 7:
Team one:
Our fourth day trekking the Great Wall started and ended with something different: a ski chair ride in the morning and a toboggan ride to complete our day trekking! Despite the initial help up the hill there was still plenty of climbing today as we took on the Mutianyu section of the Great Wall, famous for it's "1000" steps to reach the watch tower.
At times the steps seemed endless, but breaking it up into manageable chunks and sheer determination got us there. Again the weather was perfect, giving us every opportunity to soak up the views and experience.
At the sight of the steps towering above us, one team member stated, "I haven't done all that training to give up now!"
This section of the wall was more heavily touristed than previous days' sections; we are all grateful that we have experienced such a variety of trekking; from unformed and less visited areas to well groomed sections. A team member said it best, "No matter how much I see, the views just keep getting better."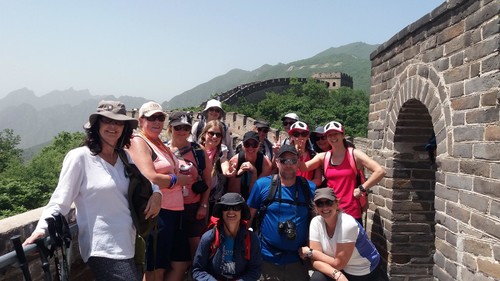 Team two:
A memorable day for all, as we slogged it out for Day 4 on the wall!
Well rested and again, stuffed with a mountain of tasty unidentifiable food items, we shot off for Mutianyu Great Wall. This section broke most of us in half as we slumped up 1000 steps to reach the actual wall itself! With the sun not shying today either, we dripped sweat along half of China reaching the base of the infamous 'sky ladder'. The name says it all, several hundred steps of near vertical stone ascend into the heavens.
Bananas, chocolate and electrolyte concoctions trickled down throats in preparation for the final lunge which resulted in calf-busting, thigh squealing episode but with a satisfying hoorah! at the final tower on the hill.
From then on it was all a relative 'walk in the park' as were scooted along the sloping wall to our exit points. Some chose the scenic cable-car to make their descent, however many opted for the thrill and hilarity of the toboggan ride which lit the child fire within us all. Cold beers and high fives were passed around as we reminisced on the day's efforts.
The evening brought a delight of visiting the massage parlours where foot rubs, head massages and even some traditional "scratch therapy" took place. This left us feeling supremely relaxed and was very much needed as we prepare for our final day on the stones!
---
Day 8:
Team one:
What we have achieved in a week! Today was our last day of trekking on the Great Wall. Tinged with sadness but all proud of what has been achieved, we set off on the hottest day yet, in the low thirties, to the Juyongguan part of the Great Wall. A highway on the floor of the valley divides the two sides of the wall, which creates an incredible blend of old and new. Once through the gate, the group split into two; some opting for the shorter and others the longer route, heading either east or west.
After another stunning morning on the wall we met back at the gate for our by now routine post trek stretches lead by the ever versatile Jessie. After some souvenir shopping we were back on the bus and headed back to Beijing, time to reflect on the past week. The team has done an incredible job supporting BCFNZ!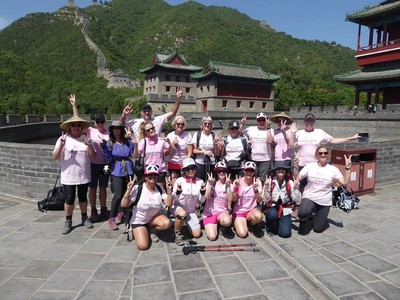 Team two:
Final Wall Crawl!
Day 5 of trekking the wall. The massages played a crucial role in invigorating our weary bodies but the wall was reasonably kind today. The coffee pot got a good work out before piling back into our beloved bus and heading toward the Juyongguan Pass. This section of the wall is one of the world's most beautiful ancient mountain passes. A circuit of wall that crosses a river up onto both the eastern and western hillsides, it was deemed the gateway to Beijing and an important location to protect during the Ming Dynasty. A beautiful spot for a beautiful group as the wonderful Kiwi's trod the pavement for the last time.
Taking only a couple of hours to complete today's section, we stopped to remember the very reasons this was taking place. We farewelled the wall but left the spirits of those we brought here with us along the path we'd carved over the past week.
Sighs of relief greeted mixed emotions realising it was now all over. The group has done such an astonishing job, raising so much money for an amazing cause! These women have defied what others have doubted and also the doubts that hid deep down within themselves.
Tonight we scattered to do various evening activities including an incredible acrobatics show at a local theatre, rooftop drinks overlooking the city skyline and braving the night markets to eat scorpions!
Tomorrow we look forward to exploring more of the charming capital.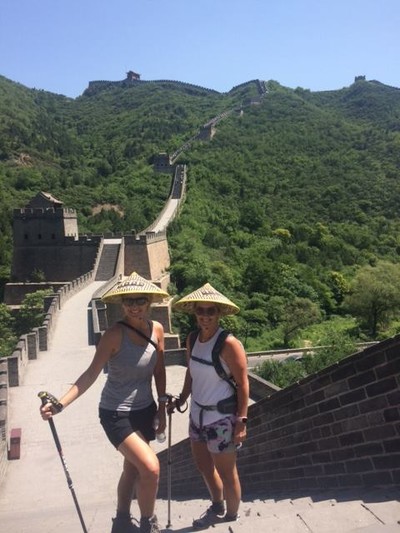 ---
Day 9:
Team one:
Today was our final day together before we start making our way home (or for some, continuing on further travel). The team chose from a range of activities today. Some individuals were in need of retail therapy and others chose to visit a hutong, alley ways of traditional neighborhoods of Beijing where homes are based around a central courtyard. The best way to experience these is a rickshaw ride through the narrow alley ways. Finally, visits to the Drum Tower, Bell Tower and the Summer Palace were also on the cards. We all regrouped for lunch (an incredible meal of traditional Yunnan dishes) and for dinner (including succulent Peking Duck).
Dinner was a celebration of all that has been achieved both by individuals in the group and what they have done to raise awareness of breast cancer. Many amazing bonds have been forged over such a short period of time and many are already hatching plans for their next adventure!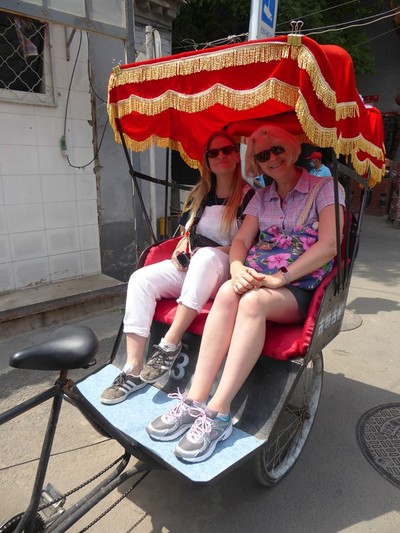 Team two:
Put your feet up ladies!
Day 9 was divine! As cultural as we all wanted to be, the art district was voted out and shopping was voted in! We hit the markets for some fake-real bits and pieces, or real fake or really fake or whatever you want to call it. Point is, bargains were snagged and carry-on limits were breached as bags filled from store to store. With our guide at the lead, the silk market also copped a beating with fabrics rolled out , then rolled up, just like the cash that was handed over did.
Some then scattered to the lakeside Sunset Palace and explored the water by dragonboat, whilst others continued a shopping rampage or went to the zoo to see the Giant Pandas.. sleeping mostly, but a cliche box was ticked none the less.
Our last big meal together saw us proceed to who knows where but it was wedged between a Rolex store and some other European Designer.. A stunning banquet of Peking Duck and other 'things' poured onto the not-so-lazy Susan, as she got a might a work out by the group.
We toasted and reminisced on a great time in China, sharing our most memorable moments and genuinely flooded the very ground with tears of laughter.
The group then wandered off into the sparkling Beijing night to gander at fried snake and boiled bat in the alleyways of the night market.
Tomorrow is the last day of the trip, one last chance to soak up central Asias great beast and drag a few more memories home.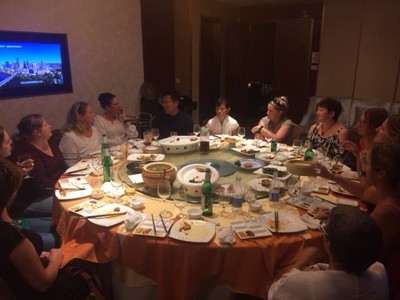 Zuò dé hǎo to all!
---