​We fund four individual sessions with a certified PINC cancer rehab physiotherapist
If you're recovering from breast cancer surgery and going through treatment, this is for you. Each session is specifically designed to maximise your recovery and help you regain physical and emotional strength.
If you've had risk-reducing surgery for high-risk breast cancer gene mutations, you may also apply for funding.
Once approved, we'll send you a Pink Ribbon™ Card, which can be used for physiotherapy at your selected clinic.
Download the list of physio clinics.
Physio for recovery
The programme caters for all ages, levels of fitness and mobility and aims to:
Optimise physical and functional recovery
Ease pain and muscular tension
Regain strength and mobility
Increase energy levels and improve breathing
Strengthen core muscles and improve posture
Improve physical functioning and maintain independence
Reclaim body confidence and control
Shift focus from illness to wellness.
How do I apply?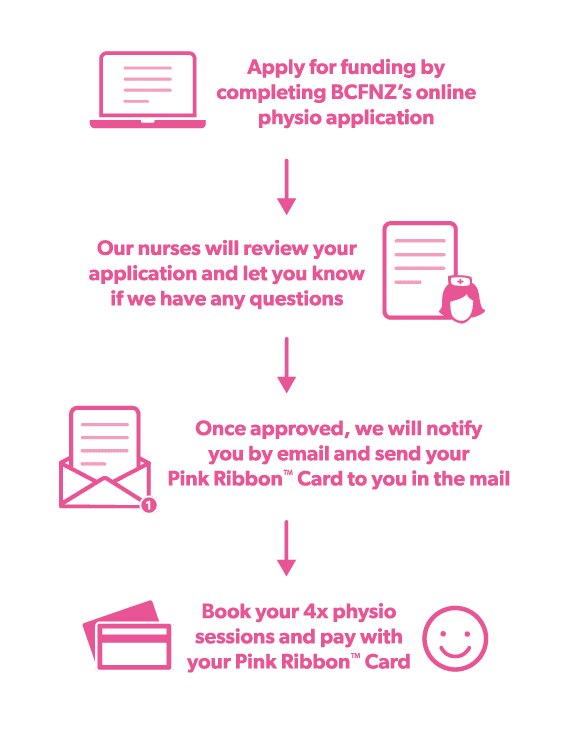 Am I eligible?
To be eligible for four free sessions of physio for recovery, you must have had recent surgery for breast cancer. Our funding is for people who would benefit from the programme but are unable to access it without financial support.
To ensure our funds are targeted to those most in need, we give preference to those who have had recent breast cancer surgery. If you're not sure, contact our nurses on 0800 BC NURSE (226 8773).
Please note that PINC physiotherapists may require a surcharge in addition to BCFNZ funding. However, this should not exceed $10 per session.