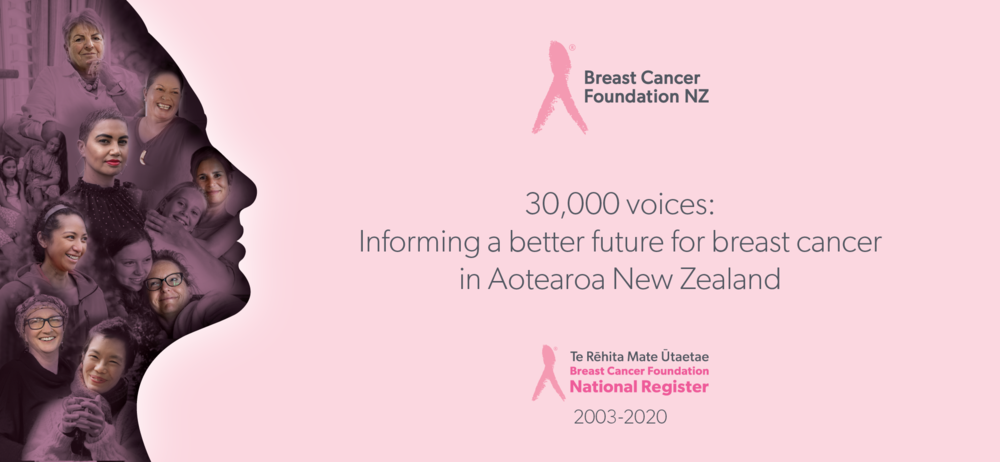 Video
Breast Cancer Register Report 2003-2020 for HCPs
Watch our webinar on the Breast Cancer Register Report.
In February, Breast Cancer Foundation NZ released the first comprehensive report into Te Rēhita Mate Ūtaetae - Breast Cancer Foundation National Register. 30,000 voices: Informing a better future for breast cancer in Aotearoa New Zealand reports on diagnoses, treatments and outcomes for 30,000 patients diagnosed 2003-2019, with follow-up to 2020. It also discusses directions for further investigation and improvement.

The report is a potentially daunting 176 pages, so we're offering busy clinicians the chance to watch an expert panel present the highlights in a webinar.

If you have a colleague who might like to watch it, please share this link.
Progress and opportunities in breast cancer in NZ: A comprehensive review
What has changed in New Zealand's clinical approach to breast cancer? Are outcomes improving at the rate they should? Improving for everyone?
Breast Cancer Foundation NZ (BCFNZ) has addressed these questions in the first comprehensive presentation of data from the consolidated Te Rēhita Mate Ūtaetae - Breast Cancer Foundation National Register.
Using this unparalleled information, with analyses performed by an experienced team at the University of Auckland's Faculty of Medical and Health Sciences, BCFNZ reports on demographic, diagnosis, pathology, treatment and outcome data for 30,000 diagnoses from 2003-2019, and how we might move ahead for even better outcomes.
Download a copy of the report, 30,000 voices: Informing a better future for breast cancer in Aotearoa New Zealand, or submit your details below to request a printed copy.
Breast cancer inSIGhts Conference, Auckland, September 2022
Breast Cancer Foundation NZ and the Breast SIG are teaming up to bring you the second Breast cancer inSIGhts conference, featuring top international and local speakers.
Save the date! Thursday, 1 September - Saturday 3 September 2022
Questions? Email adeleg@bcf.org.nz

Online learning tool
Breast Cancer Foundation New Zealand is pleased to provide an online learning tool designed to meet the Continuing Medical Education standards for GPs, practice nurse and medical professionals. Programme Stage 2 (GPEP2) and Maintenance of Professional Standards.
Access the online learning tool via http://learnonline.health.nz
Four breast cancer modules to update your skills:
Module 1: Managing Breast Signs and Symptoms - A Guide for Primary Healthcare Professionals
Learn how to apply practical advice for the management of breast lumps, breast skin and nipple changes, nipple discharge and breast pain.
Access the module at learnonline.health.nz
Module 2: Familial Breast Cancer in the Primary Care Setting
Refresh your knowledge of genetics concepts and further information regarding inherited gene mutations which are associated with an increased risk of developing breast and ovarian cancer.
Access the modules at learnonline.health.nz
Module 3: Treatment for Breast Cancer and Managing Complications
Explore the most common treatment modalities currently available for breast cancer (both surgical and medical) and enhance the service you can provide to your breast cancer patients.
Access the modules at learnonline.health.nz
Module 4: Advanced Breast Cancer (ABC) Clinical Management and Support
This course will help you gain confidence in detecting the signs and symptoms of local recurrence and metastatic breast disease. You will become familiar with the commons sites of breast cancer metastases and their presentation, as well as the clinical management and supportive care of patients with metastatic/advanced breast cancer
Access the modules at learnonline.health.nz
Course guide
You can also download the course guide - this has instructions to help you access the course, register, and get started: