How does BCFNZ counselling work?
Breast Cancer Foundation NZ-funded counselling is available when you need to talk
If you've ever been diagnosed with breast cancer (recently or a long time ago), free BCFNZ-funded counselling is available when you need someone to talk to. Counselling is also available if you're receiving preventative treatment for increased breast cancer risk.
Counselling can find ways to help you cope with:
Fear, anxiety and possible depression associated with a breast cancer diagnosis
Personal, family and relationship issues
Talking with others about your diagnosis
Work and practical difficulties
Sex and intimacy (check with your preferred counsellor if they offer this)
Some people will prefer to see a counsellor when they are first diagnosed or during treatment. Others find that the full impact of their experience doesn't hit them until after treatment stops and they are discharged from regular medical follow-up.
Often it's helpful to talk things through with someone who is not otherwise involved in your life. BCFNZ has partnered with Stratos, a national counselling service, to provide support for people coping with the emotional challenges which often accompany breast cancer.
To access this service, you need a referral from your breast cancer specialist, nurse, or GP. Or, you can complete an online self-referral and our Breast Cancer Foundation NZ nurses can arrange your counselling.
How does BCFNZ counselling work?
BCFNZ have partnered with the network of Stratos counsellors so that we can provide this service across the country. Stratos counsellors are highly experienced and provide their profile online so you know their particular skills and interests before you book.
We fund three sessions of individual counselling over a 12 month period
The counsellor will meet with you either face-to-face, over the phone or via Skype
A family member may attend the sessions with you
What happens after my application is sent?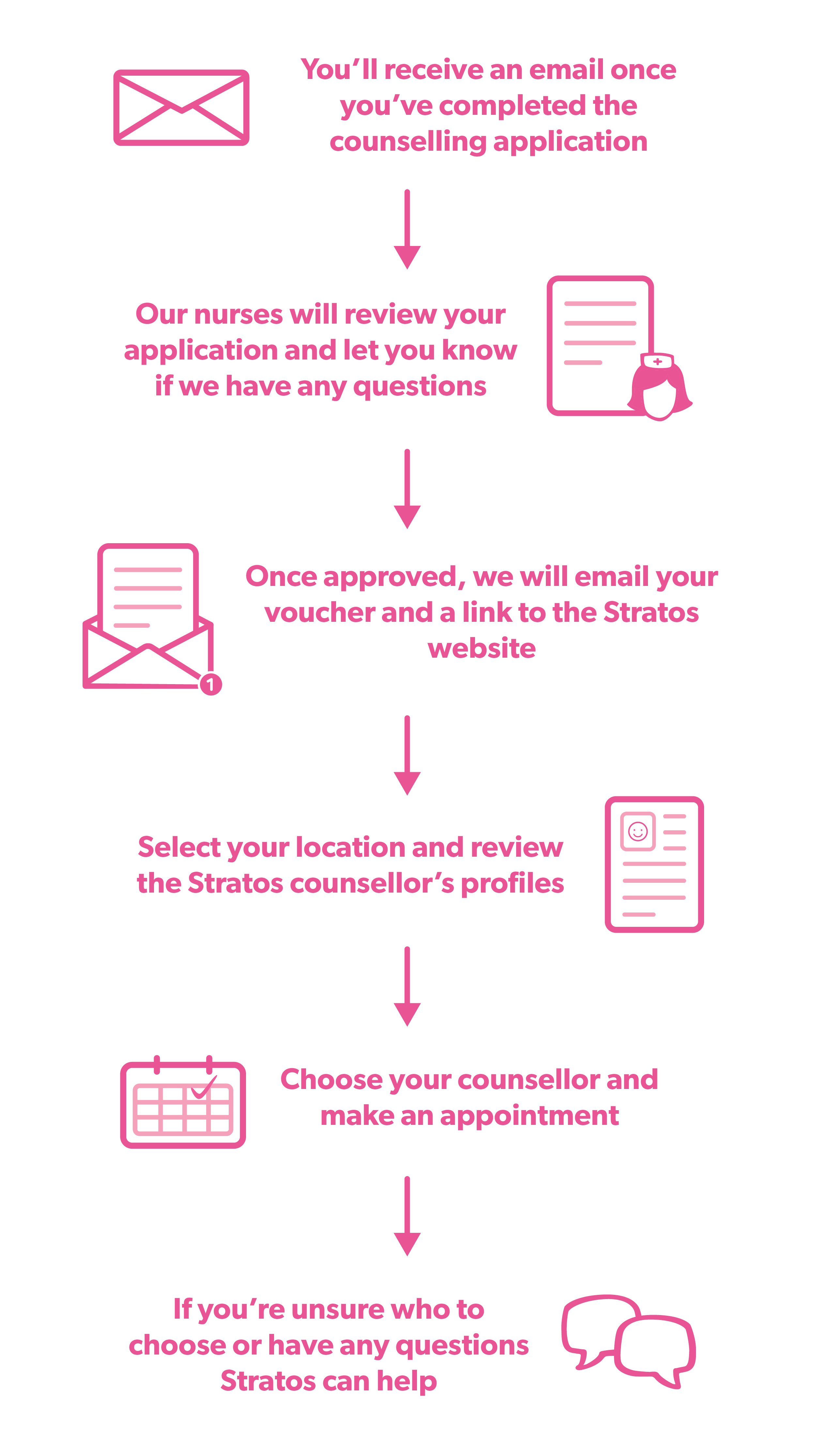 Referral for health professionals
If you're a breast cancer specialist, nurse, or GP who would like to refer your patient download the referral form here.