Glowing pink for Breast Cancer Awareness Month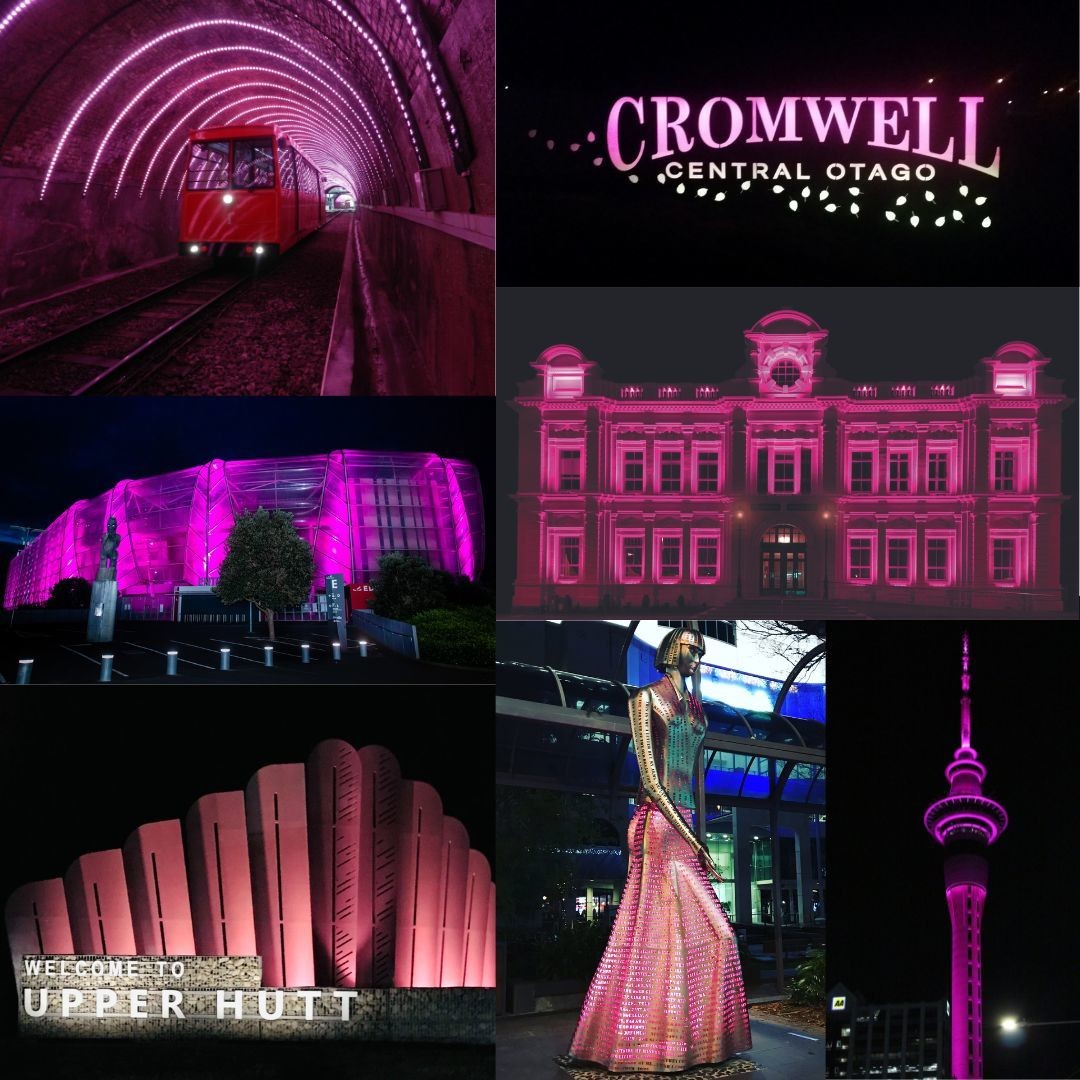 Towns and cities across Aotearoa New Zealand will once again be lighting up their landmarks and prominent buildings in pink to mark Breast Cancer Awareness Month this October.
Forty sites are participating in the Global Illuminations campaign this year, from Whangārei's Victoria Canopy Bridge to Invercargill's Gala Street Fountain. They'll all be helping to raise awareness about the most common cancer for NZ women, and honour those touched by the disease.
Christchurch will be the country's pinkest city with six of its landmarks taking part.
Some of the locations taking part for the very first time include Tauranga's Wharf Street, the #LoveTaupo sign, Greymouth Fountain and Christchurch's Bridge of Remembrance.
Check out this list to find the pink illuminations near you:
| | | |
| --- | --- | --- |
| Town/city | Landmark or building | Dates |
| Auckland | Eden Park | 30 September, 1 October |
| Auckland | Sky Tower | 2-3 October |
| Auckland | Vero Centre | 1-31 October |
| Christchurch | Botanical Gardens | 24-31 October |
| Christchurch | Bowker Fountain | 24-31 October |
| Christchurch | Memorial Gateway Bridge | 28-29 October |
| Christchurch | Robert Falcon Scott Memorial | 24-31 October |
| Christchurch | The Bridge of Remembrance | 24-31 October |
| Christchurch | Vaka 'A Hina | 24-31 October |
| Cromwell | Welcome Sign | 1-31 October |
| Dunedin | Otago Museum | 1-31 October |
| Dunedin | Toitū Otago Settlers Museum | 1-31 October |
| Dunedin | University of Otago Clock Tower | 24-30 October |
| Gisborne | Town Clock | 10-21 October |
| Greymouth | Fountain (Outside of council building) | 17-21 October |
| Hamilton | SkyCity Hamilton | 10-31 October |
| Hastings | Hastings Clock Tower | 2-14, 16-23,25-31 October |
| Hāwera | Water Tower | 1-31 October |
| Invercargill | Band Rotunda | 2-8 October |
| Invercargill | Feldwick Street Gates | 2-8 October |
| Invercargill | Gala Street Fountain | 2-8 October |
| Nelson | Clock Tower | 10-16 October |
| Nelson | Moller Fountain | 1-7 October |
| Nelson | Nelson Cathedral | 1-7 October |
| Nelson | Upper Trafalgar Street | 1-7 October |
| New Plymouth | Clock Tower | 16-31 October |
| Oamaru | Craig Fountain | 1-31 October |
| Oamaru | Oamaru Opera House | 28-30 October |
| Palmerston North | Hopwood Clock Tower | 1-3 October |
| Taupō | Hilton Lake Taupō | 1-31 October |
| Taupō | #LoveTaupo Sign | 17-31 October |
| Tauranga | Wharf Street | 2-23 October |
| Te Aroha | Clock Tower | 7-31 October |
| Upper Hutt | Fantail Sculpture | 1-23 October |
| Wellington | Kelburn Park Fountain | 1-31 October |
| Wellington | Michael Fowler Centre | 25-31 October |
| Wellington | Wellington Cable Cars | 10-16 October |
| Wellington | Women of Words | 1-31 October |
| Wellington | Majestic Centre | 1-31 October |
| Whanganui | Virginia Lake Fountain | 17 October |
| Whangārei | Victoria Canopy Bridge | 27-29 October |