New Zealand shines pink for Breast Cancer Awareness Month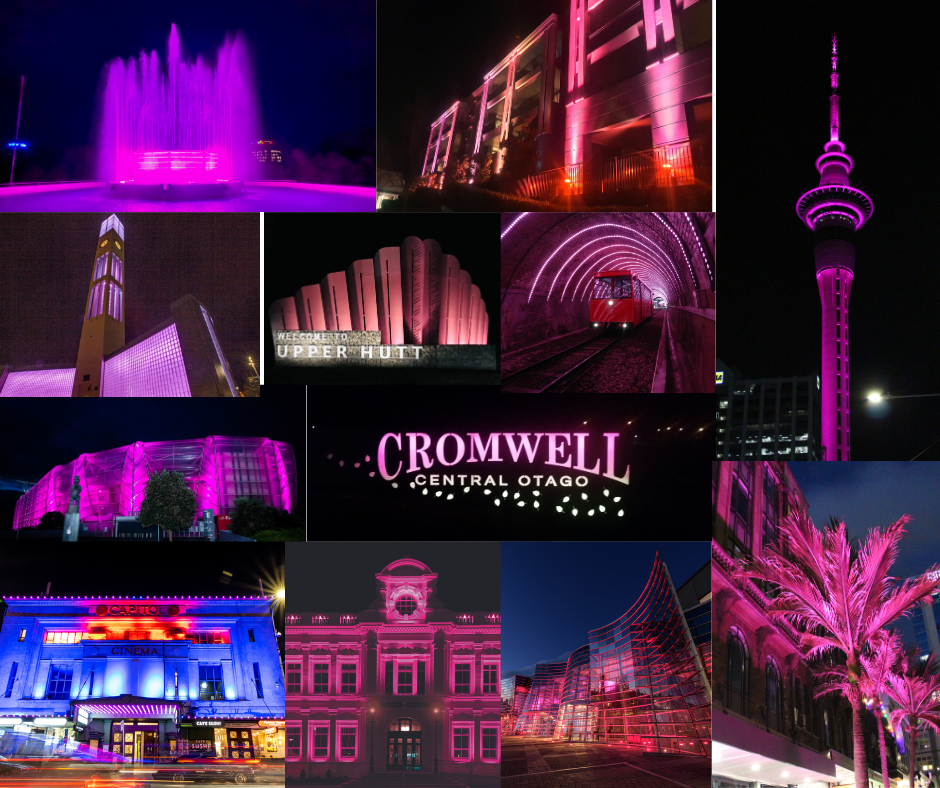 More than 60 iconic sites across Aotearoa New Zealand will be glowing in pink this October to show support for Breast Cancer Awareness Month.
From Whangārei to Invercargill, landmarks, streets and prominent buildings are taking part in the Global Illumination campaign to shine a spotlight on the importance of detecting breast cancer early. Locations shining pink for the very first time include Auckland's Aotea Centre, Dominion Road, Silo Park and Spark Arena, Napier's Tom Parker Fountain and Wellington's Queens Wharf sails.
The campaign runs throughout the whole month of October and ends with Breast Cancer Foundation NZ's annual Pink Ribbon Street Appeal. On 27 and 28 October, 10,000 volunteers will be out in force throughout the country collecting donations for breast cancer research, education, and patient support.
Pink Ribbon Walks are also taking place at the Auckland Domain (15 October) and Christchurch's North Hagley Park (29 October), where thousands of pinked-up participants will lace up their walking shoes for a five or 10 kilometre stroll to celebrate breast cancer survivors, remember those lost to the disease, and raise vital funds for Breast Cancer Foundation NZ.
Breast Cancer Foundation NZ's chief executive, Ah-Leen Rayner, says October is the time to show support for the 3,500 Kiwis diagnosed with breast cancer every year and take action to end deaths from breast cancer:
"Our aim is to make all of Aotearoa pink throughout October – it's a key way for us to get people talking and thinking about breast cancer, and this year we're highlighting how breast cancer is survivable if diagnosed early enough. Having the whole country lit up in pink is a spectacular way to help us spread that message.
"Everyday Kiwis play a vital role in our mission to stop breast cancer deaths. Every donation made through our street appeal makes a huge difference as we receive no government funding for our life-saving work," Rayner adds.
The Foundation is still seeking volunteers to collect for the Pink Ribbon Street Appeal. For more information on this and other ways to get involved with Breast Cancer Awareness Month, visit breastcancerfoundation.org.nz/bcam
Help us raise awareness by taking a photo of your nearest pink landmark (see the list below), share it on social media and tag @PinkRibbonNZ.
| | | |
| --- | --- | --- |
| City | Location | Dates of Illumination |
| Auckland | Dominion Road, Vero Centre | 1-31 October |
| Auckland | Queen Street Lights | 1-5 October |
| Auckland | PWC Tower | 1-8 October |
| Auckland | Eden Park | 2-3 October |
| Auckland | The Aotea Centre | 2-4, 6-29 October |
| Auckland | The Civic | 2-29 October |
| Auckland | Spark Arena | 9-31 October |
| Auckland | Sky Tower | 15 October |
| Auckland | Silo Park | 24-29 October |
| Blenheim | Clock Tower, Seymour Fountain (Seymour Square Gardens) | 2-8, 23-29 October |
| Christchurch | Art Gallery Te Puna o Waiwhetū | 1-14, 16-31 October |
| Christchurch | Christchurch Airport Terminal and the Airways Tower | 1-15 October |
| Christchurch | Memorial Avenue Gateway Bridge | 6-7 October |
| Christchurch | Botanical Gardens, Bowker Fountain - Victoria Park, Robert Falcon Scott Memorial, Fanfare Sculpture, New Brighton Pier, The Bridge of Remembrance, Vaka 'A Hina Sculpture | 9-16 October |
| Cromwell | Welcome Sign | 16-22 October |
| Dunedin | University of Otago Clocktower | 1-8 October |
| Dunedin | Otago Museum | 9-15 October |
| Dunedin | Toitū Otago Settlers Museum | 30-31 October |
| Gisborne | Town Clock | 9-31 October |
| Greymouth | Greymouth Fountain | 16-23 October |
| Hamilton | SkyCity Hamilton | 2-31 October |
| Hamilton | Victoria Bridge | 16-31 October |
| Hawera | Water Tower | 1-31 October |
| Invercargill | Water Tower | 1-31 October |
| Invercargill | Band Rotunda, Feldwick Street Gates, Gala Street Fountain | 2-31 October |
| Napier | Tom Parker Fountain | 2-9 October |
| Nelson | Cathedral, Clock Tower, Moller Fountain, Haven Road, Trafalgar Street Bridge, Upper Trafalgar Street | 2-8 October |
| New Plymouth | Clock Tower | 2-8, 23-30 October |
| Ōamaru | Craig Fountain – Ōamaru Gardens | 1-31 October |
| Ōamaru | Ōamaru Opera House | 27-29 October |
| Palmerston North | Regent Theatre | 1-31 October |
| Palmerston North | Hopwood Clock Tower | 27-28 October |
| Queenstown | TSS Earnslaw | 1-31 October |
| Rotorua | i-SITE Clock Tower, Prince's Gate Archway, Council Building, Eat Street, sculptures in Te Manawa | 1-31 October |
| Taupō | Hilton Lake Taupō | 1-31 October |
| Taupō | #LOVETAUPŌ sign | 2-8 October |
| Tauranga | Wharf Street | 4, 9-18, 30-31 October |
| Te Aroha | Clock Tower | 1-31 October |
| Tirau | i-Site Dog | 1-31 October |
| Upper Hutt | Fantail Sculpture | 1-24 October |
| Wellington | Kelburn Park Fountain, Majestic Centre, Woman of Words statue | 1-31 October |
| Wellington | Wellington Cable Car | 14 October |
| Wellington | Queens Wharf sails | 23-29 October |
| Wellington | Michael Fowler Centre | 23-31 October |
| Whanganui | Royal Opera House | 15 October |
| Whangārei | Victoria Canopy Bridge | 1-31 October |