Save your life in the time it takes to get changed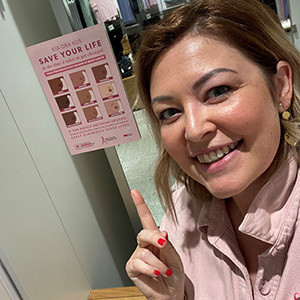 Save your life in the time it takes to get changed
Radio personality and newest BCFNZ Ambassador, Sarah Gandy,has a simple message for Kiwi women:
"Saving your life can be as easy as checking your breasts in the time it takes to get changed."
She spread that message far and wide throughout Breast Cancer Awareness Month as she partnered with us to launch the Change and Check campaign. Sarah went through breast cancer herself at the age of only 36 and wanted to share her experience to warn other young women that breast cancer can happen to them too.
The campaign sees changing rooms and bathrooms all over NZ displaying our Change and Check stickers, which show the signs and symptoms of breast cancer.
Sarah's mission is to get Kiwi women to know the warning signs of breast cancer, check their breasts regularly, and get any symptoms checked out straight away