Why dragon boating should be your next sport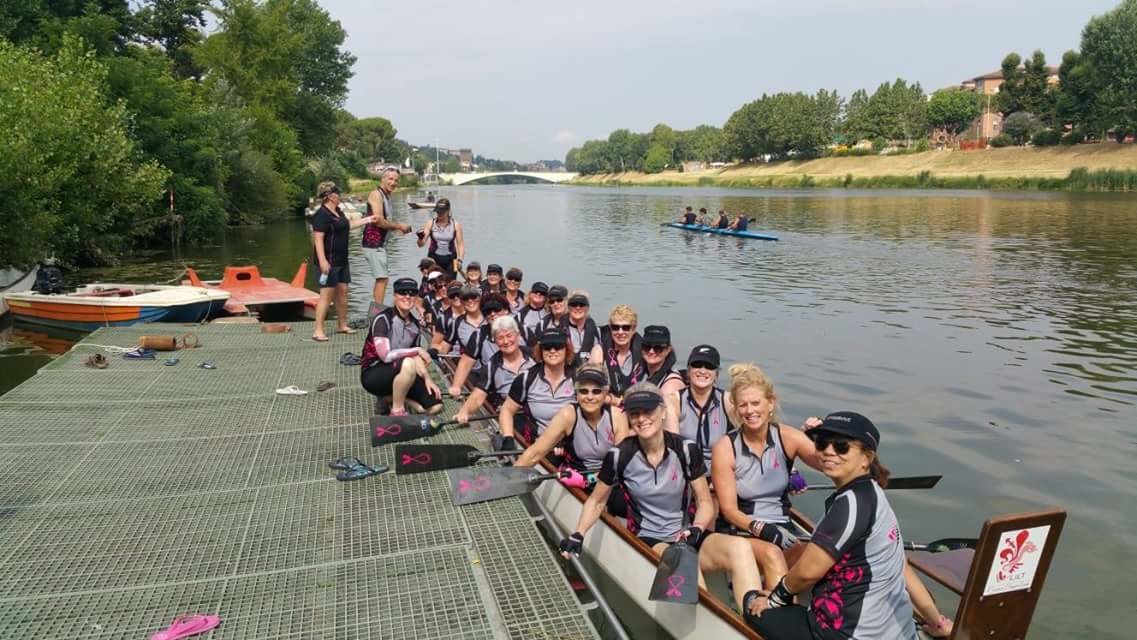 Over 20 years ago, Canadian doctor Don McKenzie was searching for a sport which specifically benefited breast cancer survivors. He wanted this sport to not only have a physical benefit but also a teamwork aspect. His investigation gave birth to breast cancer survivor dragon boat racing – which is now one of the largest women's single sports events in the world. The international memorial race attracts over 3000 women who have all had a breast cancer diagnosis.
Despite the name, the boats don't resemble a fire-breathing monster – simply a human-powered watercraft, moving across the water by 20 paddlers, plus the sweep and drummer (as depicted above).
In recent years studies have proven the power of exercise in cancer recovery and in reducing recurrence. But, for some women, lacing up their trainers and going for a lengthy solo jog just doesn't appeal. Dragon boating offers a great alternative and gives women affected by breast cancer the chance to stay fit and healthy whilst having fun as part of a team.
Bette Cosgrove joined Team CanSurvive five years ago. Her dragon boat team trains in Wellington – all year round, including through the harsh winter months! They are an extremely dedicated team with what Bette would describe as having an incredible attitude to life and an eagerness to try something new and 'go for broke'.
Bette explains "most of us aren't athletes at all … and we don't spend the whole time talking about breast cancer! We are just an eclectic group of women from all walks of life". The team has competed at an international level in Australia, Bali, Florida, Italy… to name a few. Bette and her fellow teammates even took second place in this year's International Breast Cancer Paddlers Commission (IBCPC) Dragon Boat Festival - which had an incredible 129 teams from 17 countries competing.
Here in New Zealand, there are seven teams across the country. Some aren't full breast cancer survivor teams and include other cancer survivors. Bette explains that you can literally participate whilst sitting down and that dragon boating really helps with lymphoedema. The paddling can also be 'uni-sided' which can be good after breast surgery - this can then be gently developed into bilateral paddling over time.
Many teams are also very social – with fundraising and support going hand-in-hand with competitions and racing. Here at BCFNZ we help fund participation in national dragon boating competitions.
Bette comments that most teams here in NZ have open days so you can go and give the sport a go, even if you just want to take a seat in a boat and see what it feels like to be on the water.
Describing her team as feisty and determined, Bette says breast cancer has given her and her teammates an edge - which inspires them to go above and beyond.
To find out more head to http://www.cansurvive.co.nz/ and check out the various Facebook pages for the teams across the country.