Trial & Error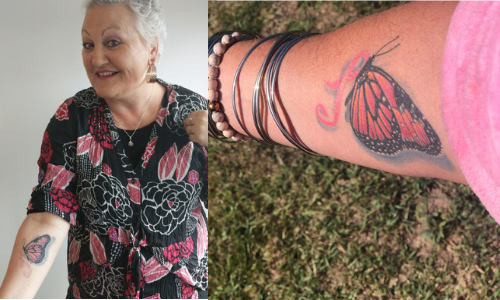 I never thought I would hear myself say that I have the "right cancer" but my HR+/Her2- breast cancer ended up being just that for the MonarchE clinical trial. This trial involves the drug Abemaciclib which is a reversible small molecule cyclin-dependent kinase (CDK4/6) inhibitor. Looking up the cost of the drug, which is always interesting, it sits at around NZ$16K per month. Not something that your average woman can afford – yikes!
The trial is being held in NZ is to answer this research question:
Does the combination of Abemaciblib plus adjuvant endocrine therapy (hormone therapy) decrease the proportion of relapses after surgery in participants with a certain type of breast cancer (high risk, early-stage hormone receptor-positive), compared to those who have adjuvant endocrine therapy alone?
Clinical trials are few and far between in NZ so I was pretty happy to hear I met the criteria and officially became a participant in July last year. My breast surgeon had also suggested I try and get on a trial so that I was regularly monitored, another bonus of being part of a clinical trial :)
This trial itself isn't blind - so you do know if you are actually taking the drug. If you don't get the drug, then you are still monitored and have to come to all the clinic appointments. Selection is randomised so you get told after your screening appointment which arm of the trial you are on. There is a 50% chance you are taking the drug.
Anyone with cancer knows that the time it takes for treatments is like having a part-time job. In this case, the trial period is for 10 years – treatment for two years and a follow-up period of 8 years.
You start with fortnightly visits for the first two months, followed by monthly visits for three months and then three monthly visits for the remainder of the time. The nurses check in by phone every month when you are on the three monthly visits.
A typical visit involves a nurse visit to take blood tests, weigh in (dang!), blood pressure and a meeting with the clinical oncologist to go over any symptoms, changes, problems and to get a breast check. Most visits take between 1-1 ½ hours.
Like all treatments, there are side effects! The most common side effect is diarrhoea and in some cases (like with me) there has to be a slight dose reduction. I started with three pills in the morning and three in the evening. I now take two pills twice a day. This seems to have settled things down. I did end up downloading the App "Flush" to find the nearest public toilets when I was out and about. Lol
I had been thinking about getting a special 'breast cancer tattoo', so when I was chosen to participate in this trial, I designed the Monarch butterfly holding the pink ribbon as the masterpiece.
They have just closed off this particular trial as the maximum global number has been met. We have around 30 in NZ.
I have started a MonarchE Facebook group so those of us on the trial can keep in touch and we have met for lunch which was great to share this experience with others going through the same thing.
I would strongly recommend going on a trial if you meet the criteria and you are in a position to be able to take the time off work to attend the appointments. Not only are you helping with the research you also possibly getting drugs unavailable to other patients.