If you've been diagnosed with lymphoedema, it's important to get the right treatment.
A lymphoedema therapist makes all the difference. The sooner you get treatment, the sooner you can take control - and we're here to help.
To get started, ask your GP, breast cancer specialist, or breast nurse to complete this referral form and email it to supportservices@bcf.org.nz
Once approved, we'll send you a Pink Ribbon™ Card, which can be used for your lymphoedema treatment. You can then book your first lymphoedema therapy session.
Download the list of clinics with lymphoedema therapists.
Lymphoedema therapy
If you've been diagnosed with lymphoedema following breast cancer surgery, or are at high risk, we can help fund lymphoedema treatment. In New Zealand, the current treatment for lymphoedema is based on the five "cornerstones" of care:
Light touch massage
Compression bandages or garments
Extra special care of the limb/area
Paced exercise
Medical taping
How do I apply?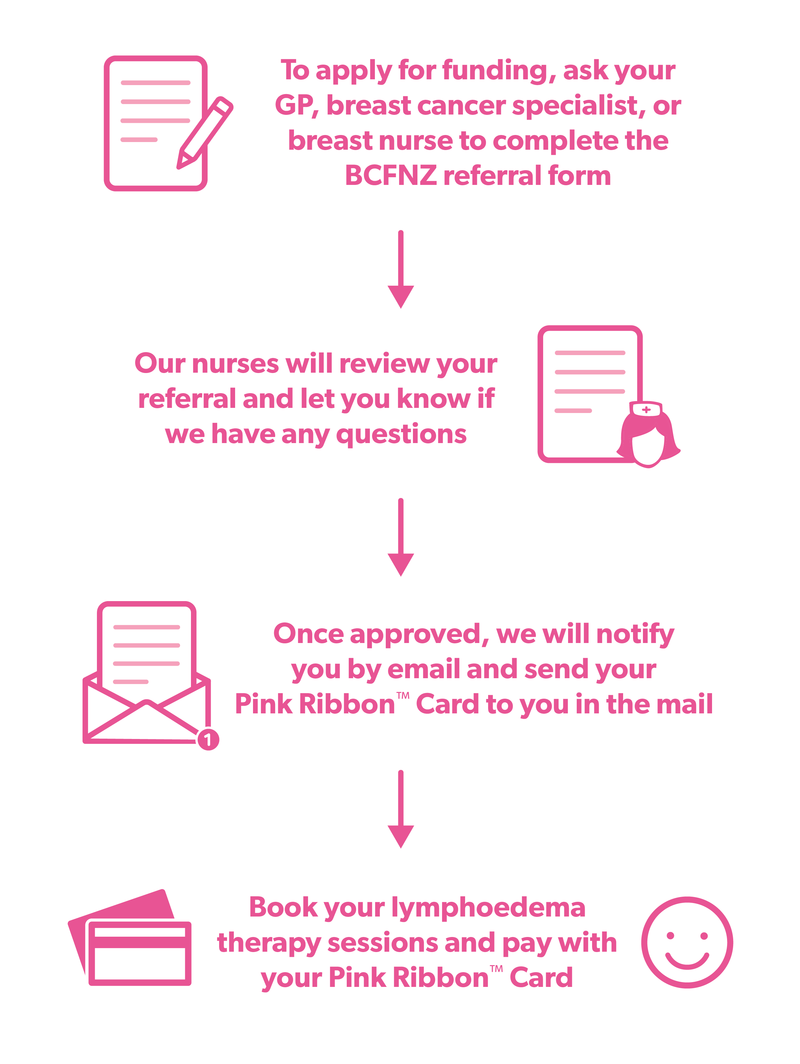 Lymphoedema therapy funding
Once approved, you will receive therapy to the value of $180 with one of these lymphoedema therapists. We encourage you to complete 90 minutes of lymphoedema therapy.
Session one is free, subsequent sessions may incur a surcharge. Please check with the clinic prior to making your booking.
Your lymphoedema therapist will determine your treatment plan from one of these options:
| | | | |
| --- | --- | --- | --- |
| Option | Session 1 | Session 2 | Session 3 |
| 1 | 60 minutes | 30 minutes | - |
| 2 | 30 minutes | 30 minutes | 30 minutes |

Find out more about lymphoedema.
Am I eligible?
To be eligible, you must be undergoing, or have completed, treatment for breast cancer. This funding is intended to help people who might not receive the treatment they need without financial support.
You will get preference if you:
have a recent diagnosis of lymphoedema as a consequence of breast cancer and its treatment (e.g. surgical axillary intervention and/or radiotherapy)
have had breast cancer surgery in the past five years
are at high risk