"Don't suffer in silence": Charity urges breast cancer survivors to act on long-term effects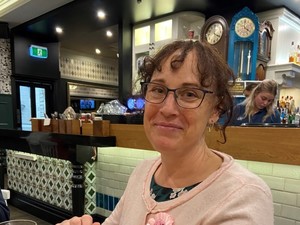 Kiwi breast cancer survivors are being encouraged to look out and seek help for long-term side effects of treatment, as a charity delves into this under-researched field. Ahead of World Cancer Day, 4 February, Breast Cancer Foundation NZ (BCFNZ) is inviting survivors to share their experiences in a new survey.
The investigation comes a year after BCFNZ published research showing breast cancer survival in New Zealand has improved significantly. Thanks to major advances in screening and treatment, the five-year risk of dying of breast cancer in NZ has halved since 20031 and an estimated 49,000 Kiwi women are alive today after a breast cancer diagnosis2. As more people live longer after breast cancer, this raises questions around how a new generation of long-term survivors are dealing with ongoing health problems.
International research shows that people diagnosed with breast cancer can experience wide-ranging side effects that last or develop long after surgery, chemotherapy, radiation therapy and hormone treatment. For example, between 15% and 50% of patients who have chemotherapy have cognitive issues ("chemo brain") for a few years afterwards3, and 20% of breast cancer patients develop lymphoedema (swelling of the arm after surgery to remove lymph nodes, or after radiation)4. Other effects include peripheral neuropathy (nerve damage), problems with balance and walking, pain, infertility, fatigue, and heart damage.
"We hear from survivors that they are so grateful to have got through treatment, they feel that any lingering effects are just something they have to live with. Or, some might develop side effects many years after a diagnosis so they – and even their doctors – have no idea these symptoms could be related to the treatment that saved their life," says Ah-Leen Rayner, chief executive of Breast Cancer Foundation NZ.
"We're encouraging breast cancer survivors to be vigilant about persistent or delayed reactions to treatment and know that they don't have to cope with them without getting help. And to people who are about to start treatment, don't be afraid to ask your specialists about how to minimise your chances of these things happening to you.
"We also want to hear from survivors about their experiences because right now this is a poorly understood problem. By participating in this survey, you'll help us to inform doctors, the Government's Women's Health Strategy and our own support services to make sure more Kiwis live well after breast cancer," Rayner adds.
Jude McCulloch, a mum and primary school teacher from Waiuku, was diagnosed with breast cancer in February 2020, at the age of 43. Two years after finishing treatment, Jude is still dealing with lingering effects from surgery, chemotherapy and radiation treatment. These include lymphoedema, alopecia, peripheral neuropathy, fatigue and memory problems – all causing difficulties with everyday life.
She says: "There's an expectation that beating cancer means you're happy all the time. Yes, I have survived, but it's taken a lot – there have been things I've lost and things I'm still dealing with and people don't see that. They don't realise that quality of life post-treatment is also important.
"I've found ways to manage my long-term side effects, like paying privately for a good lymphoedema therapist, calling the Breast Cancer Foundation nurses for advice and joining a breast cancer support group. But I've had to be proactive and hunt out practical advice about how to cope.
"My advice to other survivors is to seek help. Sometimes as women we get stuck in a rut of not wanting to make a fuss and just getting on with things. There are things that can help but you have to be a squeaky wheel. If you're not your own advocate, nothing will happen."
BCFNZ's survey for breast cancer survivors who have finished treatment can be found online at: www.breastcancerfoundation.org.nz/long-term-effects-survey
Later this month, BCFNZ is hosting a webinar where healthcare professionals and breast cancer survivors will offer information and practical advice about long-term and late side effects of treatment. Keep an eye out for more details soon at www.breastcancerfoundation.org.nz