In May, 18 women and two men walked more than 100km from Sarria to Santiago, Spain, raising over $90,000 for BCFNZ. Blisters, sore bodies and fluctuating emotions were part of the journey. Each person took around 170,000 steps and raised an average of $4,500. This is their story.
Day 1
Hola y bienvenido a España! Today was our first night of the adventure, a chance to meet the team and get to know one another a bit more. We are all excited to finally be here and can't wait to see the sights of Madrid tomorrow before we journey to Sarria – the point where we'll take our first steps on El Camino de Santiago.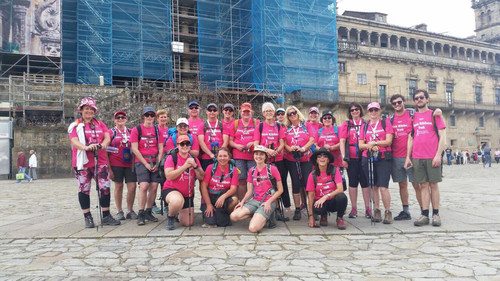 Day 4
After the many tiring months of training, the exciting build up and the incredible effort of fundraising over $90,000 for NZBCF – it's all finally underway!
The track was filled with many interesting people from all over the world, keen to chat and share their reasons for tackling this famous walk. We humans had to make room for the large herds of horned cattle and dogs also out for a stroll.
The time seemed to fly by and before we knew it we were halfway through and ready to fuel up at an old stone restaurant in a small area called Ferreiros. After lunch we welcomed an unexpected visitor – the sun! It came out and treated us to a beautifully warm afternoon, bringing incredible colours and vibrancy to the old villages and lands that we passed through.
Around 3pm an old white town poked its head up in the distance over the rolling hills, our destination for the day, the alluring village of Portomarín. Entering the town required crossing an enormous bridge in which the old town of Portomarín lay submerged underwater beneath our walking feet!
Finally we ascended a steep flight of stairs to finish our first day. An amazing effort from the whole team and a fantastic start to achieving our goal. Tired, happy and with many "I need to get these shoes off" murmurings, we headed to our hotel.
Buenas noches!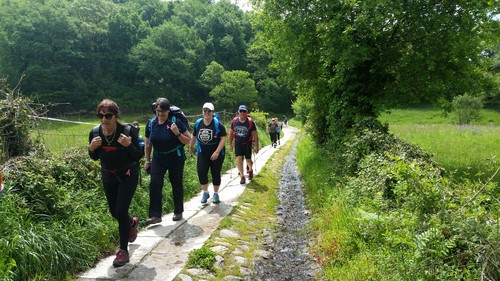 Day 6
It's the big one! The mammoth!
The one we have all been dreading…we were looking down the barrel of the longest day. A daunting 30kms of hills, valleys and winding roads.
We rose earlier than normal to fuel up and set off at 8am. The first part of the walk wound downhill through Casanova, with beautiful old churches and houses.
We walked through valleys and forests, over rivers, up hills and past livestock.
After a few stops to take some breathers and fill our pilgrim passports with many stamps, we arrived in the bustling town of Melide for lunch. Through a large window we could watch as the local chef fished octopus from a gigantic pot and cut it up in front of us – ready to serve the traditional dish – Polvo (Galician for Octopus).
The afternoon saw more challenging climbs as we left the town and journeyed up into the rolling hills. The sun was beaming high in the sky as we put our heads down and got to work – pushing through the pain and the halfway mark – to arrive at Arzúa.
With feet and legs crying out for a rest, our longest trekking day was over by 6pm. Time for a well-deserved shower!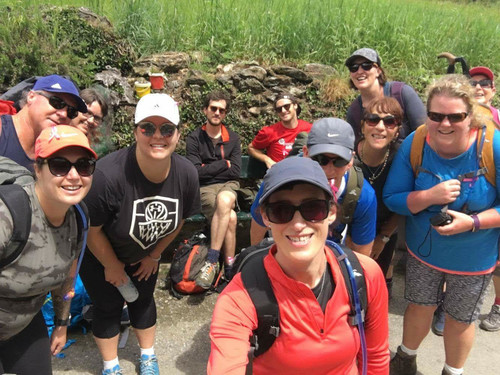 Day 8
Only 13km to the Santiago Cathedral… The final day of El Camino de Santiago… The end of our incredible journey!
We began early, all decked out in pink, the finish line finally in sight. Putting all the aches and pains aside we hit our stride and trekked on. The morning took us through the last of our small Spanish villages. The final one giving way to a steep hill that led up to a huge monument on the tip of a mountain – Monte de Gonzo (Mountain of Joy).
By chance, at the summit, a fellow pilgrim who had also been walking the trail asked if he could recite to us the Pablo Neruda poem 'Oda al Camino' in Español. A large group of many pilgrims gathered to listen and with breath-taking views of our destination city, Santiago de Compostella, in the distance we were treated to a poem about acceptance and transformation. An ode to the power of El Camino de Santiago.
Under the high sun we descend the hill and pushed on to the edge of town. Fellow jovial pilgrims from all corners of the globe passed us with good wishes. We were the pink kiwis and had made many friends along the tough route.
We completed the final kilometre through the old town and toward the Cathedral of Santiago in silence, a chance to reflect on what had brought each of us to this point, and the amazing accomplishment we were about to achieve.
Laughter, tears and hugs spilled out as we hit the centre of the old cathedral square. Such an amazing effort from an amazing group of people – each one with a different story but together sharing the adulation of completing something incredible as a team.
We faced many challenges and overcame them all – finishing the adventure with smiles and sweat – no foot was left unaffected, but by that point we didn't care.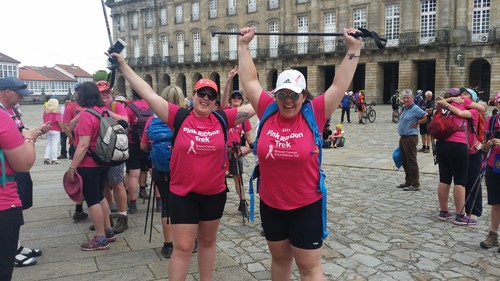 Day 9
To wrap up the end of our journey, we enjoyed a free day in Santiago de Compostela. Most of us wandered the streets of the old city, popping in and out of the shops. Many people checked out the Sargadelos shop, which is a type of traditional Galician pottery. Others explored the parks and treated themselves to a well-deserved ice cream.
It has been an incredible journey for all, one that has tested us both physically and mentally and it's hard to believe the adventure is coming to an end.
Buen Camino to all!