We spoke with Lee-Anne Murray, who was diagnosed with breast cancer in 2020, to discuss the importance of the New Normal Same Cancer campaign and why it's crucial to listen to your body and never hesitate to get checked. Here's what she had to say…
When did you first notice something didn't feel quite right within your body?
I was 25 weeks pregnant and noticed a change in my left breast, with a few lumps and bumps in my right breast as well. At the time, I wasn't sure if it was pregnancy-related, and my midwife couldn't give me a definitive answer either. It was something that played on my mind all the time. Then, one day at work two weeks later, I had a strong gut feeling that something wasn't right, and I had to get it checked right away. After a referral from my GP, when the specialists initially did the mammograms and ultrasound, they thought the tumour would be 9-10cm, but it was actually 17cm and spread to my lymph nodes once removed.
How has life changed for you since your diagnosis?
At 37 weeks I had an emergency caesarean and then a mastectomy when my baby, Hugo, was just six days old. Five weeks after surgery I started on chemotherapy, which took six months. Then I had five weeks of daily radiotherapy and that was brutal, much tougher than the chemo.

For the next step, I was given the option of having zoladex injections every month for five to 10 years but I decided to have my tubes and ovaries removed instead, and then hormone blocking therapy for five to 10 years. Because my breast cancer is hormone positive, I wanted to do everything I could to prevent it coming back.
I'm feeling really good now and when I look back, I wonder if that was actually my life. I can't believe I was bald a few months ago, or that I went through chemo. Cancer has really changed me as a person. It's made me realise that I have to live in the now, and I don't need to worry about what everyone else is up to. I also have to deal with a new body image, and it's not something I thought I would ever have to go through.
What is your advice for those putting off seeing their doctor?
If you are feeling hesitant about going to get anything checked, just do it. Please don't put it off! I want to raise awareness to get more people to 'know their normal' and check their breasts. So many people think breast cancer only happens when you're older, but my story shows how that isn't true at all. It's something I want to bang on about until the cows come home because if it saves another life, then it's totally worth it.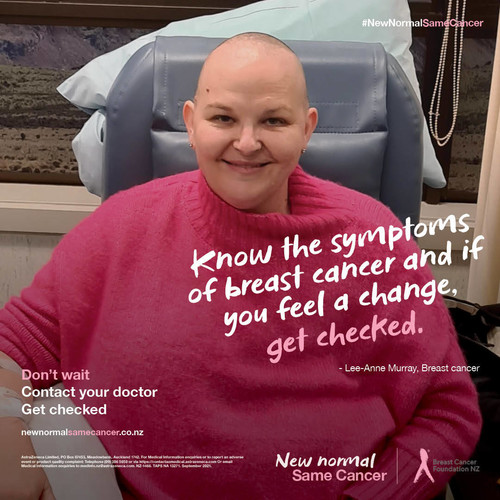 Lee-Anne shows us the importance of listening to your body and following through when something doesn't feel right. An early diagnosis will give you the best possible outcome. So, don't delay and book that appointment as soon as you can! #NewNormalSameCancer