Tash was just 23 years old when she was diagnosed with triple positive breast cancer last October. She discovered a lump while she was in the shower washing off her fake tan. Confronted with making a sudden decision about IVF and forced to cancel her wedding, Tash then faced months of gruelling treatment including chemo, surgery and radiation therapy. Now she's speaking out to encourage other young women to be breast aware.
The discovery…
It was winter (July) and I'd just recovered from a head cold. While I was in the shower exfoliating off my fake tan, I discovered a lump under my armpit. It didn't feel right so I got my fiancé, Keanu, to check, and then made an appointment to see a GP.
The doctor said there was a 99% chance the lump was an exposed lymph node that was part of my recovery from the virus. I had no family history of breast cancer – other than my grandmother on my dad's side – so they thought it was very unlikely to be cancer. They sent me home and told me not to worry, but come back in four weeks if it was still there. Four weeks later it was, so I went back and got the referral to see a breast specialist.
After an ultrasound and fine needle biopsy, on 17 October 2019 I was diagnosed with stage 2 ER+, PR+ and HER2+ (triple positive) invasive ductal carcinoma, and one lymph node tested positive. I was 23 at the time, and I was told I would have had the cancer for anywhere between two to five years.
At the time all I could think about was losing my hair. I was meant to be getting married in two-and-a-half-months and that was the top issue on my mind. I was so distraught about how I would look at my wedding but now looking back, I'm shocked that's what I was worried about when my life was in question.
It was devastating to hear your life was more or less tipped upside down in a second. All of the unknowns were overwhelming. Keanu and I had just finished building our home and were about to get a mortgage. I knew straight away that I'd have to go off work but thankfully they were extremely supportive and I didn't have any financial trouble.
The waiting period between tests was harder than actually getting the news. Getting the diagnosis, I realised I'd been dealt the bad cards and I just had to play the game and listen to the professionals. I was petrified of the tumour in my body and I just wanted to get rid of it, so I wanted to start active treatment straight away. I'm so glad I had health insurance, I would've been lost without that. I managed to speed up a lot of my surgical treatments because I went private, although I had my chemo and radiation done publicly.
My gruelling treatment journey...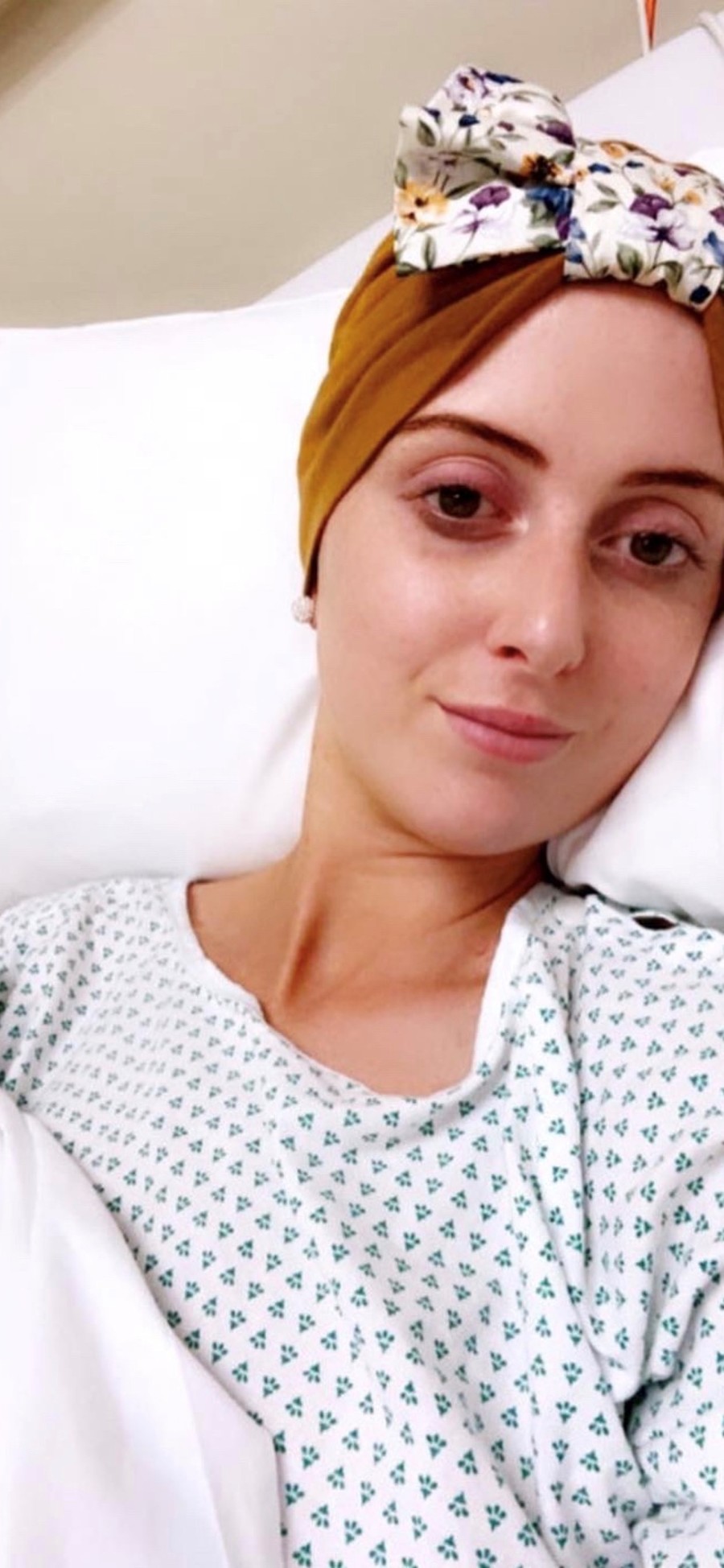 I hadn't even thought about fertility preservation and wasn't going to do it, but Keanu but took leadership of that. He said I might regret it 10 or 20 years down the line if I didn't do it. I had so much else to think about, my head was all mush, so he took in all the details. The thought of the needles and the harvesting procedure terrified me, but going through it wasn't as bad as I thought. It was a good chance for my mum, partner and I to connect and understand the reality of it all together. I'm so relieved I did IVF now, but at the time I didn't know what my life had come to. It gives me hope for the future, but I needed someone on the outside looking in to give me advice and help me through it.
After completing the IVF I got the portacath insertion done and then started neo-adjuvant chemotherapy. That was the hardest part of all my treatment. Chemo took 18 weeks and the side effects in the first week were horrendous. I had bone and muscle aches and pains that prevented me from being fully able to walk.
Every Monday I had chemo Keanu took the day off work. He would do the smallest things that would mean more than a million words, like putting ice cubes into a chilly bin so I wouldn't get ulcers or a sore tongue. Having chemo meant I had to change my wedding date and I lost my hair – that took me a long time to get over.
After my first round of chemo, I became neutropenic and then picked up an infection. With no white blood cells to fight it, I got a fever, which was scary – the unknowns were scary. It was so overwhelming not knowing what to expect. My mum was caring for me and Keanu was away for work. I was ticking off all the symptoms on the booklet – heating up, freezing cold – I ended up in the emergency department with a temperature of 39.9. That was when they did a blood test and found I had no white blood cells, which was life-threatening. I had to stay in isolation for seven days.
I had a lumpectomy on 16 March 2020 – one week before lockdown. Surgery was a breeze in comparison to chemo! I had prepared for the worst, but I couldn't have asked for better pathology results. The chemo had shrunk the initial tumour (that was 17mm by 9 mm) by 75% and all 10 lymph nodes that were removed received a pathological complete response – which means the all clear.
I had 19 rounds of radiation, and I also went back to work full-time when radiation started. They've been so supportive and flexible. Now I'm on Herceptin, which I'll finish in October, all going well.
Treatment carried on fine during lockdown, but I found it hard going to hospital on my own and I found Herceptin difficult to adjust to. I get it every 21 days and so far I've had no bad side effects other than fatigue. Herceptin is a targeted therapy for HER2+ cancer, and lowers the risk of recurrence – it's so reassuring to have these amazing drugs in New Zealand.
At the beginning one of my biggest fears was looking different, so I really made an effort during my treatment to keep up my appearance. Throughout the 18 weeks of treatment there were only 11 days where I didn't wear make up. I really do believe when you look good, you feel better. And after all the distress of losing my hair, I now have four different wigs and I love having fun choosing how I'll style my hair. They've even helped me to cut down the amount of time I need to get ready by half!
Moving forward…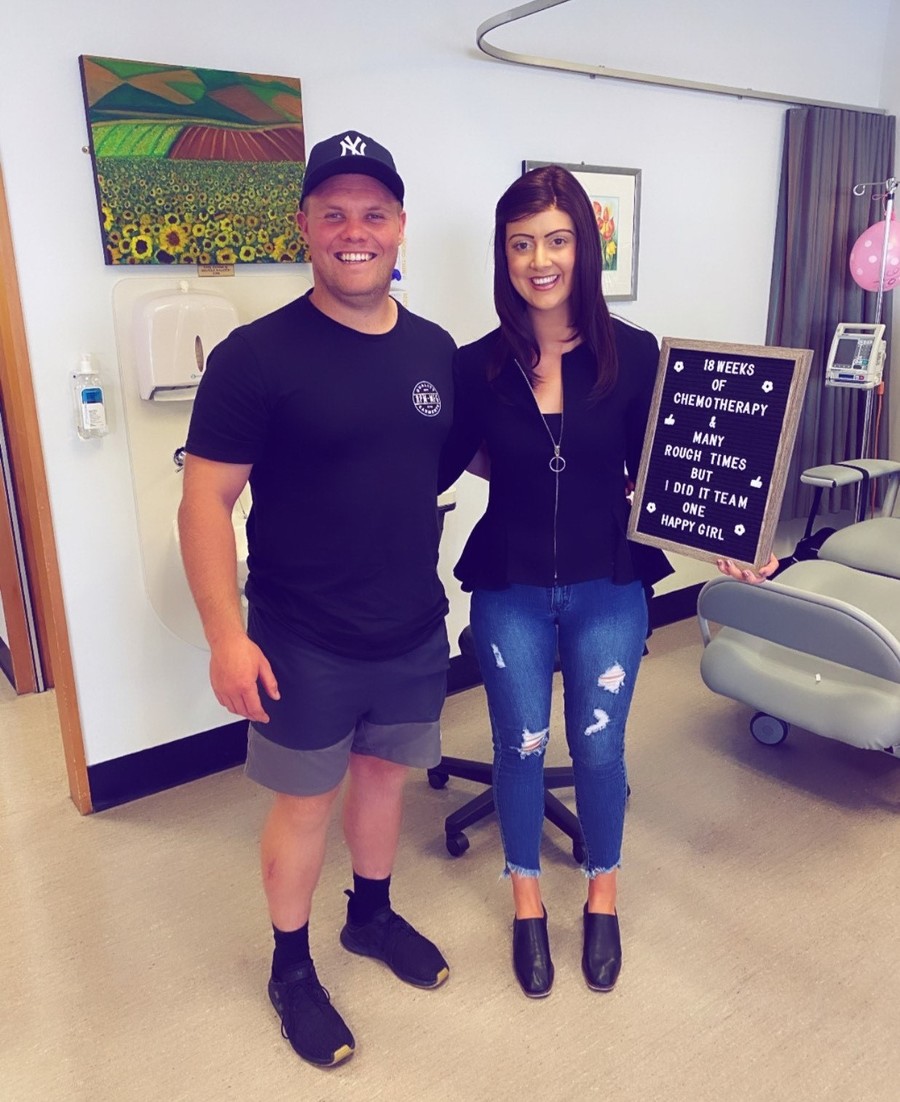 I've always been a bubbly positive person and I truly believe that thinking positively will result in positive things. I use my own mechanisms to get myself up daily, I love to gym and get out in nature. I like to make sure I do some form of daily exercise which does really soothe the soul. I'm so grateful that I get to stand on my feet each day and have a whole fresh shot at life!
There have been a couple of occasions where I've felt lost. Going into hospital every single day for so long, it's important to remind myself that I don't have cancer anymore – you live it for so long that you just get stuck in it and it becomes part of your day-to-day life.
I don't dwell on why I got breast cancer so young. It just proves that cancer doesn't discriminate, regardless of age. You just have to deal with it and be your own advocate.
I'm so grateful for what I've had offered to me, so I just want to give back by sharing my experiences. It's about reassuring people that you aren't alone, and that everyone handles things differently. It's important to understand that your mind is extremely powerful.
Life can feel completely haywire and off-track, but now that I'm through the other side, life is actually better. I have a different view on things and I'm less stressed – I do things I love and don't waste my time on things that add no value to my life. You have to remember to look for the light at the end of the tunnel: listen to the professionals, do what you have to do and then life will carry on. I want to show women that you can come out the other side stronger. No-one ever thinks you have to go through something like this, but you learn how much inner strength you actually have when you have to face this.
I can't stress enough to all women to download the Pre Check app and set reminders to do self-checks. I tell everyone if you don't do it you're mad, cancer does not discriminate. The minute I was diagnosed, all I heard on the radio were ads for the app. I downloaded it and learnt the signs and symptoms of breast cancer. Now I do a self-check every month. Keanu and I even have a running joke about it – when it's time to put my fake tan on that's when we know it's time to check my breasts. I wasn't even doing a breast exam; I was just taking off my fake tan! Now I truly believe wearing fake tan is what saved my life.
I'm an example that if you notice any lump, bump or change, you have to make an appointment with your GP. Don't feel like you're being a nuisance if something's not right – it's your body, you know it.
My wedding is now going to be in February 2022. In a way it worked out well, because of COVID-19, and it's given us more time – good things take time! I've been with Keanu since I was 15 and we sat down and said we're not going anywhere; he'll stand by me no matter what. We decided to put this behind us properly and then have something to look forward to. It's important to focus on the now. A lot of people don't know how to deal with cancer, especially at such a young age, but between my family, Keanu and his family we've all been there for each other.
I'm really looking forward to having a family. I'm on endocrine treatment for five years, so I won't be able to have kids until I've finished, but I'm so young so I wasn't planning on starting before then anyway! I'm not a deep thinker about the future, I just enjoy every day and surround myself in love, light and happiness, as I know I've done all I can to have a good outcome.
On the Change and Check campaign…
The aim of this campaign is to raise awareness that you can be young, fit, well & healthy, yet still get breast cancer. I'm an example of how 'knowing your normal' can simply save your life. Let's be real here, we are all capable of checking social media notifications. So, what is there to lose by downloading the Pre Check app and turning on notifications to do a monthly self-examination. The best protection is early detection!
Tash is 24, lives in Dunedin with her fiancé Keanu, and works as a sales manager for Fonterra.