Catherine's story is part of a series looking at the many and varied experiences of breast reconstruction and the decisions behind a woman's choice to have reconstruction or not.
Catherine was diagnosed with breast cancer at 55 after finding a lump. She chose to have immediate implant reconstruction, but her implant flipped. She shares her story and the advice she has for other women…

I was diagnosed with stage 3 ER/PR+ breast cancer at 55, after finding a lump in the shower. I had a mammogram and ultrasound at the local imaging centre, which found two tumours. While I was offered the choice of having breast conserving surgery or a mastectomy, my surgeon said that because the tumours were close together that I would be losing a large chunk of my breast. I chose to have a mastectomy, which ended up being the right choice, as when I had the surgery there was a third lump in my breast. Later when I had a second surgery to remove lymph nodes, they found a another tumour in my armpit, so there were two tumours that hadn't been detected.
I was offered options for breast reconstruction, but I chose the quickest road to being sorted and back on with life. For me, that was having reconstruction with an implant. I spoke to my surgeon about using my own tissue for reconstruction, but at Rotorua they don't do a trans flap – I would have had to go to Waikato. It was explained that it was a longer, more complicated surgery, which talked me out of it. My kids said that every time I went back to the breast clinic in the first months after my diagnosis, I'd come back with worse news. I wondered when it was going to end, so I thought let's get this sorted and fixed and then I can get back to work and back to my life.
Even when you're first diagnosed, you're given all these options and it's an awful lot to comprehend. I was five months into a new relationship and, for me, I was concerned more about what I was going to look like afterwards, not what it was going to feel like. I was given the choice of implant shape, and chose pear-shaped as I was told it would look more natural. I could also choose whether to have the muscle left on my ribcage or have the implant placed under the muscle and expanded, which would give a better shape. I still wanted to look attractive to my new man, so I chose to have the implant under my muscle. I had never thought about how a muscle works, like when you run a lot your leg muscles get sore and get bigger – it's the same on your chest. When I work in the garden, my chest muscle gets tighter and bigger. I can contract it and make it bulge on my chest – that's a party trick that my other breast can't do! Now I wish I hadn't decided to have the implant under the muscle, but it's too late, and in saying that, I don't know how it would have been different if I'd chosen the other option.
I had a drain in for 32 days after my mastectomy. It was a bit depressing to have a drain in for so long, as it couldn't come out until the fluid was under a certain amount for three consecutive days. It was a real shock to see how long the drain cord was when it was pulled out – it was 40cm wrapped around and around. I always found my breast was uncomfortable, I was never told that it was just my drain – when I finally got it taken out, everything felt so much better! I also got cording in my arm, and I still get a lot of lymph swelling down my left side.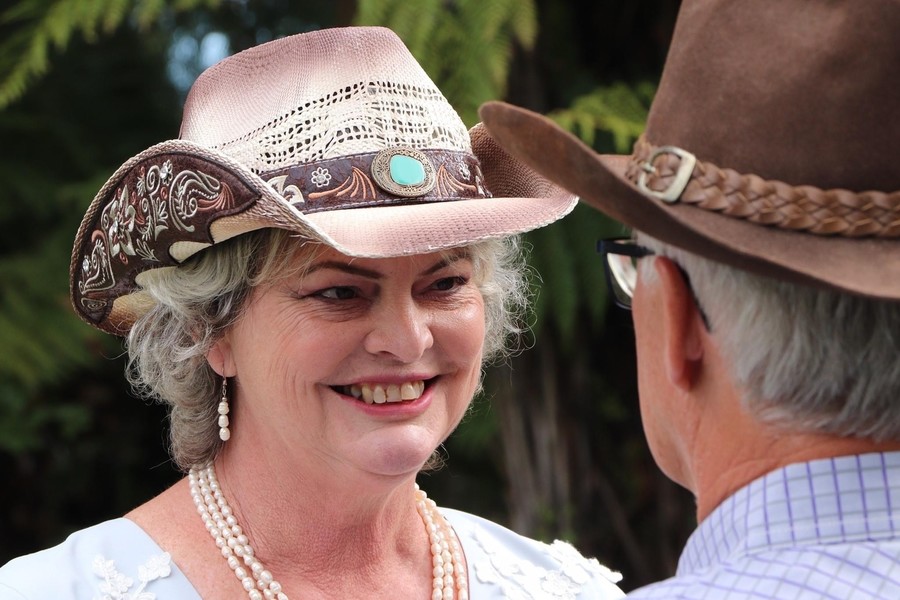 One day I felt lumps on my breast, so at my next oncology visit I showed them. They found two significant lumps and referred me back to breast clinic, where I was told that the lumps were the tags on my implant. I did my research and found out that the tags are meant to be on the bottom. When I told my surgeon, he tried to deny that the implant was flipped but I had been in touch with the implant manufacturer. They confirmed that the tags are located at the bottom of the implant and that I shouldn't be able to feel them. I showed my surgeon the manufacturer's email and then he couldn't apologise enough. To this day I am not sure if my implant has flipped or if it has been put in upside down, as it has never felt right. With the implant the wrong way up, the curved part digs into me, while it's flat on top. My implant moves and I get quite a lot of pain and discomfort, especially at night as it's on the side I usually sleep on. I called the Breast Cancer Foundation NZ nurses, and they said I shouldn't be having that kind of pain with an implant. In January I sought a second opinion and the private surgeon put in a claim with ACC that has been accepted, so I'll be getting my implant fixed.
I don't think I understood the significance of wearing support bras for six weeks after surgery. I wore one day and night the whole time, but it was probably a size too big. When I get my implant fixed, my specialist has told me that they'll supply surgical bras. I think that every woman should be given proper bras for support, and maybe that's why my implant flipped as I didn't have proper support. I also think women should consider what their reconstruction will feel like afterwards. I didn't think about what having the muscle over the top of my implant was going to feel like or how it was going to function. I don't think there's enough out there for what could go wrong with breast reconstruction.
I also didn't do enough to look at what all the pluses and minuses were for all of the different options, but I had limited time to think through my decision. I was given all these options and I asked to go have lunch with my partner and come back with my answers. We discussed everything over lunch, but I would have liked more time to research it – but then the hospital doesn't have that time. They need to move through surgery and all of that quite quickly. I found that if you don't ask questions, you don't get answers, but you don't know what to ask! I wish they had told me what to do instead of giving me options.
Women should also know that mammograms and ultrasounds don't find everything. There was a third breast lump that didn't show up in scans because of where it was positioned, as well as a fourth lump under the arm, so things were well on their way inside my body. Initially I was told I would have six weeks off and then I'd be back at work, but I was off for a whole year with treatment. I didn't expect it to be that bad, but I wasn't expecting to have breast cancer at all!
Catherine lives in Taupo with her husband Garry.