Janet (57) and her wife Jocelyn (59) were both diagnosed with breast cancer within three months of each other. Jocelyn's cancer was detected through a routine mammogram last October and this prompted Janet, who hadn't been keeping up with screening appointments, to book one straight away. Both women were lucky to have been diagnosed early as it saved them from more invasive treatment. Now Janet is hosting a Pink Ribbon Breakfast to raise vital funds for Breast Cancer Foundation NZ and awareness about the importance of early detection.
I just burst into laughter when I found out I had breast cancer. I know that's a bizarre reaction, but it seemed inconceivable that it could happen to both of us at the same time.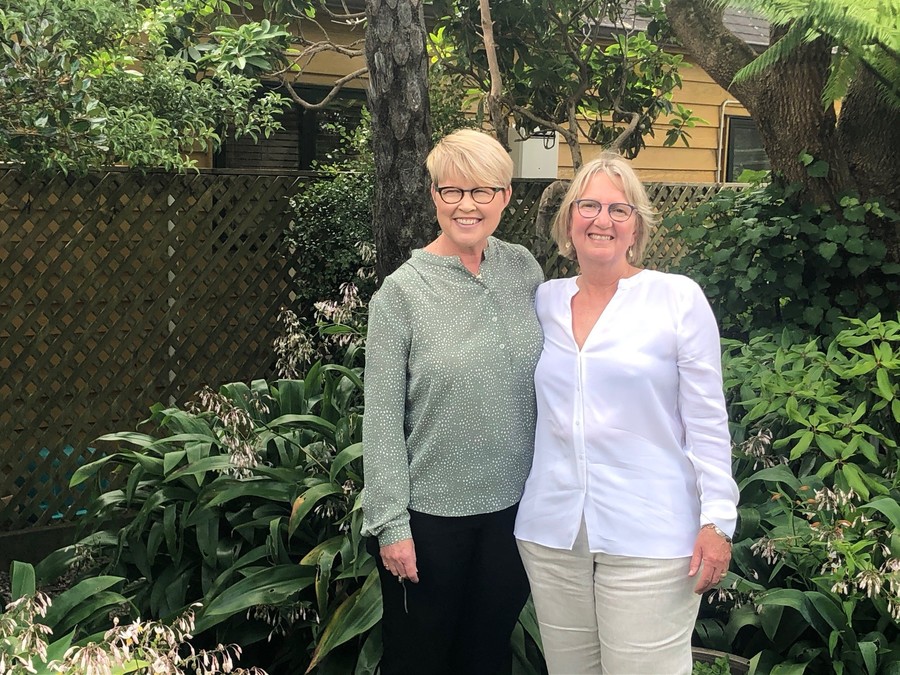 I'd been a bit slack about going for mammograms. I got a letter about it before Covid started but then we went into lockdown, then I was busy with work and I kept putting it off.
Once Jocelyn was diagnosed via a routine mammogram, it forced me to be more vigilant. We have friends who've been through breast cancer but that was never enough to spur me to act, it was only once it was brought so close to home. Breast cancer was never in my family so I had the view that it would never happen to me. When it happened to my wife I knew I couldn't be casual about it anymore and I booked a mammogram straight away.
Jocelyn had a partial mastectomy of her left breast in November, did radiation therapy early this year and is now on endocrine treatment. My surgery was in February and I'm about to start on radiation. My type of breast cancer was described as 'garden variety' and I was assured it was highly treatable. It was the same with Jocelyn – we both were lucky to detect it early and we've both been spared from going through chemo.
It's been hard with both of us being diagnosed, but also strangely comforting as we go through it together. You can feel pretty flat at times so we've buoyed each other up. We've been able to talk about things so freely, and we have a real understanding of what the other is going through.
Until Jocelyn was diagnosed, breast cancer wasn't ever something I really thought about. But now that we've both been through it, I wanted to do some fundraising to give back for the amazing care and support we both received.
Hosting a Pink Ribbon Breakfast is my way of celebrating good health and sharing our journey. It's a good way to prompt more women to go for mammograms. It's so easy not to keep up with screening appointments but in both of our cases, our cancers being detected early contributed to us recovering as well as we have. I also want to show other same-sex couples that this is our reality and that this could easily happen to another same-sex couple. If speaking out helps other women then it's worthwhile.